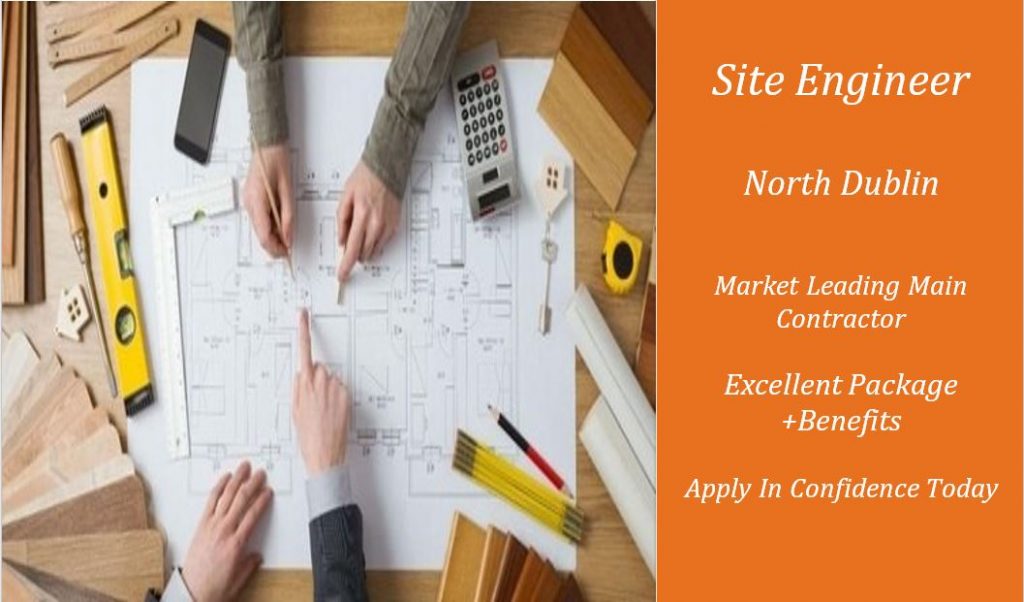 Site Engineer | Dublin
Site Engineer | Tier 1 Main Contractor | Dublin
One of Ireland's Top 5 Tier 1 Main Contractors with significant annual turnover.
Excellent career progression opportunities along with a generous package.
Exposure to large, interesting and prestigious projects.
Oradeo Recruitment is presently seeking interest for an experienced Site Engineer ideally with solid main contractor / specialist subcontractor experience to join one of Ireland's leading Tier 1 Main Contractors permanently based in Dublin. As a Site Engineer you will gain exposure to prestigious projects across the Dublin area on large building/construction sites.
As a member of the Engineering & Management team, you the Site Engineer will have a number of responsibilities that will be vital in the contribution to the overall delivery of projects inlcuding offering advice in the planning, coordination and supervision of technical aspects of construction projects, management of various workers crews/ subcontractors and preparing reports etc. Become a Site Engineer with a building contractor with an outstanding reputation in the market on large scale construction projects. This position would come with an excellent remuneration package and a clear path for career growth and development towards Senior Engineer, Project Management and beyond.
Site Engineer Responsibilities:
The Site Engineer will be tasked with Setting out, levelling and surveying the site.
Checking plans, drawings and quantities for accuracy of calculations.
Ensuring that all materials used and work performed are as per specifications.
Managing, monitoring and interpreting the contract design documents supplied by the client or architect
Liaising with any consultants, subcontractors, supervisors, planners, quantity surveyors and the general workforce involved in the project
Liaising with clients and their representatives (architects, engineers and surveyors), including attending regular meetings to keep them informed of progress.
Planning the work and efficiently organizing the plant and site facilities in order to meet agreed deadlines.
Overseeing quality control and health and safety matters on site.
Resolving any unexpected technical difficulties and other problems that may arise.
Necessary skills and requirements:
3rd level qualification in Construction Management/Engineering
Minimum of 2-3 years' experience in Building Projects with a main contractor acting as a Site Engineer within Ireland or the UK
Strong setting out experience
Strong operational skills and an attention to detail
Familiar with MS Office applications such as Word, PowerPoint, Excel and Outlook.
Strong and effective communication and interpersonal skills.
Analytical thinker with demonstrated problem solving skills
Ability to work in a team or on own initiative
Ability to perform multiple tasks at a high level of quality
Ability to work well under pressure and within a strict deadline environment
For more information about this role Site Engineer position or other Site Engineer / Setting Out Engineer opportunities, contact Declan Duggan at Oradeo Recruitment confidentially on +353 1 687 7188/+44 845 643 4964 or apply in confidence.
About Oradeo- Oradeo Recruitment are specialists in the Construction & Engineering sector. We are a leading service provider in Ireland, UK and Europe for professional recruitment services (Senior Engineer, Senior Site Engineer, Senior Project Engineer, Project Engineer, Site Engineer, Setting out Engineer etc.) provided to many market leading Main Contractors, Specialist Contractors, Subcontractors, M&E Contractors, Client Side Organisations, Developers, Architecture practises, Construction Consultancies etc. Oradeo also specialises in the provision of managed labour in Construction & Civil Engineering, Oil & Gas, Mechanical & Electrical, Warehousing and Logistics and Industry