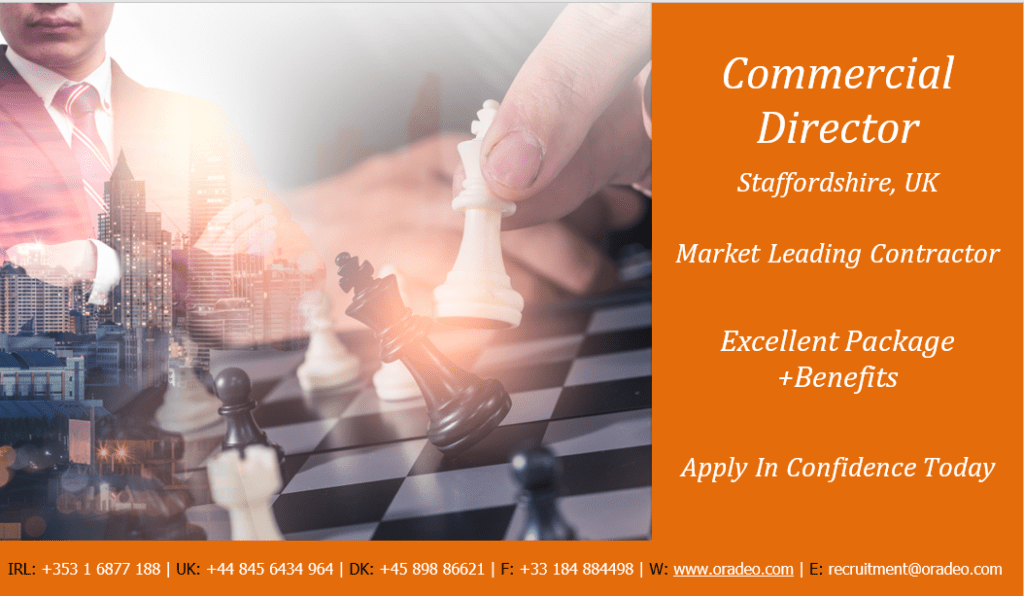 Commercial Director | Staffordshire
Commercial Director | Staffordshire
One of the UK's largest Main Contractors turning over £500m+ annually
Excellent package and scope for career progression
Prestigious Projects
Oradeo Recruitment is presently seeking interest for an experienced Commercial Director to be based in the Staffordshire area. The successful individual will have the opportunity to work on a multitude of exciting, complex and large projects around the Staffordshire area ranging in value from £50-£150+ million.
This tier one organisation has grown into a diversified firm working with a number of prestigious clients within a number of key sectors including Building, Civil Engineering, Demolition, Land Remediation/Restoration, Sports & Leisure (Stadiums) & Rail.
As the Commercial Director, you will be tasked with leading and managing the successful delivery of a number of projects within the Northern half of England and will have to opportunity to further develop their career with this well-established organisation.
Duties & Responsibilities:
Taking a strategic approach to the organisation commercial performance, the candidate will be expected to have longstanding relationships within the construction market such that they are able to influence outcomes across a range of tier 1, 2 & 3 construction partners, specialist trade contractors, consultancies, architectural practices and suppliers.
The role will necessitate the candidate to take a pro-active overview of risk management for the group, such that risks of delivery are understood, managed and mitigated.
The Commercial Director will take an active involvement with fellow senior colleagues, in the selection of all construction partners, including design team and the supply chain.
Leading all aspects of commercial aspects of construction process from pre-tender right through to project handover and final account settlement
Acting as a Commercial Director you will take an active involvement in managing the estimating/bid management function, you will be instrumental in devising the winning strategies to allow the group realise its growth ambitions.
Management and overview of the appointment of the design teams, sub-contractors, supply chain and other stakeholders.
As a Commercial Director you will be ensuring with their construction partners, that they have an innovative approach to how to procure and deliver the project on time, to budget, at the required quality to create the maximum value.
Commercial leadership – build, strengthen and support the commercial functions across the organisation, through the pre-contract and post contract phases of the project life. The candidate should proactively understand the process and ensure that the commercial targets are realised, whilst maintaining relationships with all stakeholders in the process.
Leading the vetting of all contract negotiations and managing all contract and final account negotiations across the group.
The Commercial Director will regularly review the commercial forecasts of all projects to ensure sound and accurate budgetary control and the identification of early warnings issues on live projects.
Managing any dispute resolution in the group at a commercial level.
Managing aspects related to performance bonding for the group.
Necessary Requirements:
Ideally 20+ years post 3rd level qualification experience.
Suitable candidates should have a qualification in Quantity Surveying/Construction Economics and be a Chartered Surveyor.
Demonstrable strategic outlook, commercial awareness, financial acumen and previous significant budgetary responsibility.
Experience of working on major projects essential.
Experience at a senior level, ideally gained with a main or specialised contractor.
Technically strong with rounded risk skills, analytical and financially articulate.
Able to provide project leadership, motivate and manage internal and external teams.
A confident presenter, good interpersonal and communication skills.
Able to build and sustain relationships with a diverse spectrum of people.
Energetic and ambitious for personal growth and development.
Entrepreneurial and a problem solver.
A high level of organisational ability.
Knowledge of contract law is essential and further training in litigation/dispute resolution would be desirable.
For more information about this Commercial Director position or other opportunities, contact Declan Duggan at Oradeo Recruitment confidentially on +353 1 687 7188 / +44 845 643 4964 or apply in confidence.
About Oradeo – Oradeo Recruitment are specialists in the construction & engineering sector. We are a leading service provider in Ireland, UK and Europe for professional recruitment services and the provision of managed labour in Construction & Civil Engineering, Data centres, Mechanical & Electrical, Life Sciences and Renewable Energies sectors