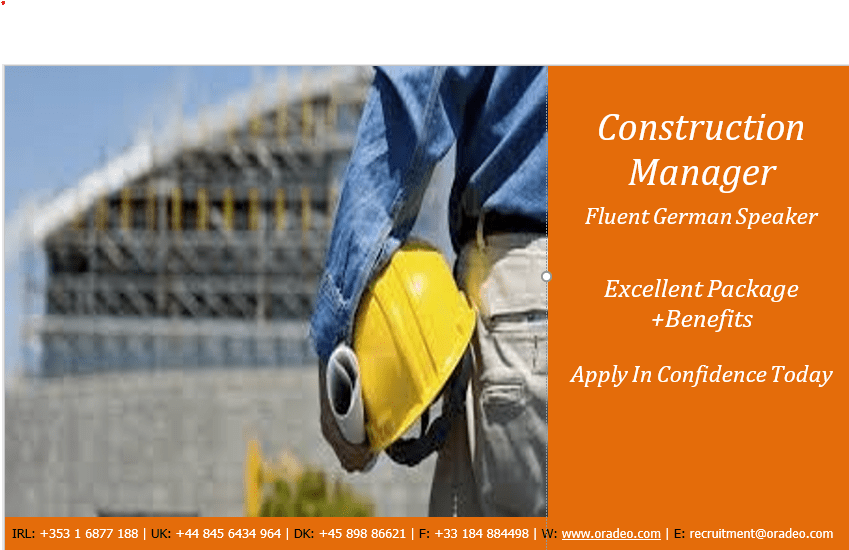 Construction Manager | Germany (EMC).
Construction Manager | Germany | German Speaking
Market leading international client with significant annual turnover
Excellent package on offer with clear scope for career development
Large prestigious project for many well-known blue-chip clients in Europe area's within Data Centres
Oradeo Recruitment invites applications for the role of a German Speaking Construction Manager with strong IT skills for a large international client. The successful candidate will be responsible for managing the project team including design and supply chain to ensure safe delivery of project(s) on time and within budget to stated quality and client's satisfaction.
Oradeo Recruitment's client is an International Company is a leading provider of wholesale data centre and colocation services. The company has a portfolio of purpose-built data centres to address the exact requirements of highly regulated organizations such as Fortune 1000 enterprises, healthcare and life sciences organisations, financial services companies and cloud services providers.
Duties and Responsibilities:
Achieve performance against contract budget, programme, quality and health and safety.
Plan and manage project satisfactorily through to retention release.
Create team spirit and develop project staff.
Protection of the client's contractual position.
Ensure commercial procedures are implemented.
Implementation of all Company safety and health and quality procedures and ensure statutory and legislative compliance.
Prepare contract budget in conjunction with profit centre Surveyor and ensure it is kept up to date. Regularly monitor performance and act when necessary to improve performance.
Ensure the project is properly planned and programmed.
Ensure all relevant information is collated, reviewed and actioned at regular contract review meetings. Attend client / consultant meetings, prepare and respond to the requirements of the meeting.
Ensure verbal instructions are confirmed in accordance with contract conditions.
Maintain regular contact with existing clients, known consultants, contractors, sub-contractors and suppliers.
Authorise placing of sub-contractor and supplier orders in accordance with the Limit of Authority document.
Ensure all necessary resources are in place to meet contract programme.
Recruitment and management of site personnel in line with Company HR Policies and procedures.
Ensure delays are properly recorded under the contract to ensure contractual entitlement.
Develop contract programme, establish sequence and timing of operations necessary for the completion of the work.
Necessary skills and requirements:
Minimum 8 years of experience in a similar Construction Manager role
3rd level Qualification in Civil Engineering / Construction Management – or strong trades background
A strong technical background is essential for this role
In addition to having a strong technical background, the Project Manager ideally will possess experience on projects in excess of €30/£25 million in the Pharmaceutical, Data Centre, Industrial or Commercial sector
Strong operational skills and an attention to detail, and experience of the design build process
Good presentation and general management skills
Strong written communication abilities, and the ability to negotiate a strong commercial position for the company are also essential
Must be fluent in German
Strong IT skills, minimum Word, Excel, AutoCAD, MS Project
For more information about this Construction Manager role or other Construction Manager roles, contact Eavan McCallig at Oradeo Recruitment confidentially on +353 1 687 7188 / +44 845 643 4964 or apply in confidence.
About Oradeo – Oradeo Recruitment are specialists in the construction & engineering sector. We are a leading service provider in Ireland, UK and Europe for professional recruitment services and the provision of managed labour in Construction & Civil Engineering, Data centres, Mechanical & Electrical, Life Sciences and Renewable Energies sectors