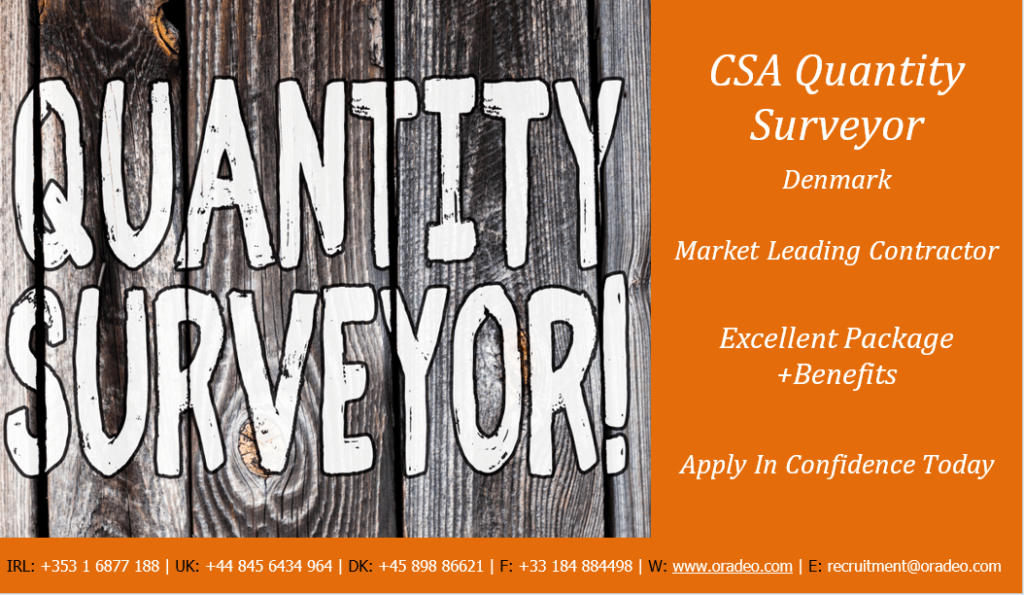 CSA Quantity Surveyor | Denmark
CSA Quantity Surveyor | Denmark
Large international market leading contractor
Excellent package and career development prospects
Large prestigious projects
Oradeo recruitment is currently recruiting for a CSA (Civil / Structural / Architectural) Quantity Surveyor to work with a market leading contractor who have a role available in Denmark on a large and prestigious Data Centre project. The successful candidate will need to have experience of working with on the civils/building packages on large projects.
Duties and Responsibilities:
Review and understanding project contract documentation
Preparing and analysing supplier and sub-contractor enquiries
Preparation and issuing of contract documents to our supply chain
Monitoring change in our scope of work and pricing of variations
Preparing and agreeing Monthly progress applications
Financial and contractual control of sub-contractor accounts
Issuing of contractual notices and evaluate loss and expense/acceleration claims
Providing fast, accurate, competitive and profitable estimates
Preparation of monthly commercial project reports
Provide Data and analysis of issues & risks as required by Management
Managing and forecasting of project Cash flows
Liaising with the client, main contractor and other departments
All other duties associated with this role
Necessary Requirements:
Academically (Degree) qualified and or relevant experience in the industry
Main Contractor experience working on large commercial projects
Data Centre experience essential
3-5 years' experience in a QS role
A wide understanding of work contracts
Good with Figures
Able to negotiate with clients on a professional level
Experience in use of Excel a requirement
Excellent Analytical and problem-solving skills
High level of accuracy and attention to detail
For more information about this CSA Quantity Surveyor position or other opportunities, contact Declan Duggan at Oradeo Recruitment confidentially on +353 1 687 7188 / +44 845 643 4964/ +45 8988 6621 or apply in confidence.
About Oradeo – Oradeo Recruitment are specialists in the construction & engineering sector. We are a leading service provider in Ireland, UK and Europe for professional recruitment services and the provision of managed labour in Construction & Civil Engineering, Data centres, Mechanical & Electrical, Life Sciences and Renewable Energies sectors