Design Manager (EMC)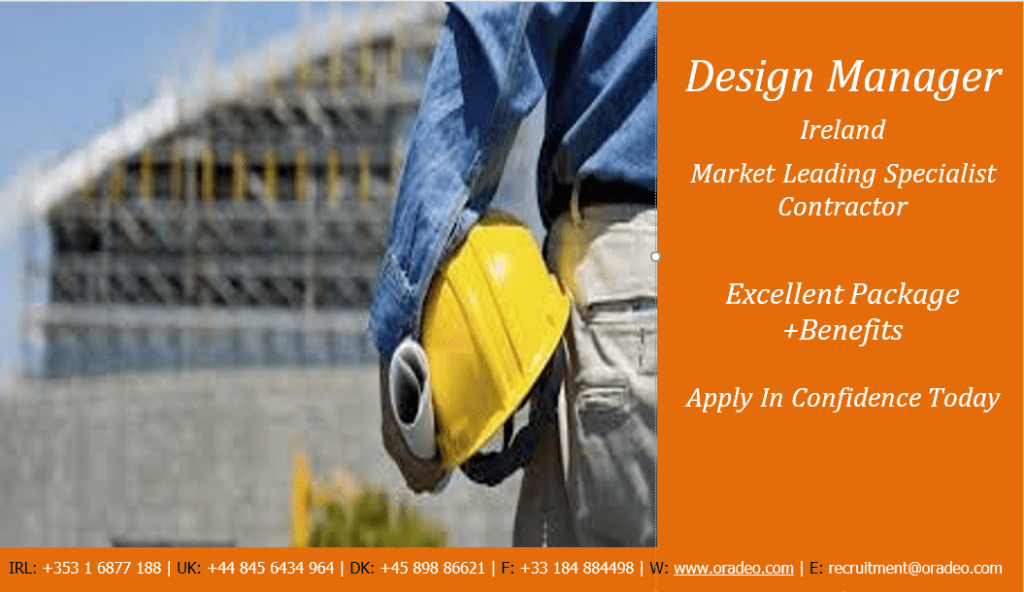 Design Manager
Large market leading specialist Construction Company with significant annual turnover
Large, complex and prestigious projects spanning various sectors on industry
Impressive list of existing clients made up of leading Main Contractors, consultancies & architectural practices with over 90% repeat business
Excellent package and clear scope for career development
Oradeo Recruitment is currently recruiting for an experienced Design Coordinator/Manager to work with a Market Leading Specialist Contractor based in Dublin on a permanent basis with an excellent remuneration package on offer.
Oradeo Recruitments clients is a leading manufacturer, supplier and installer of architectural facades servicing both the Irish and UK Construction Industry with over 40 years' experience in the industry.
The role of the Design Coordinator/Manager will involve the co-ordination of those areas of the design process on both preconstruction and live project(s) under their control to ensure that the project is built in line with the agreed design and that the design team produces required information to the correct level of detail and in accordance with deadlines set.
Design Coordinator/Manager Responsibilities:
Evaluate project information, review all documentation, understand project brief and identify deliverables/success factors.
Assist in briefing of design team
Establish and maintain effective communication channels between design team, and Client; as required
As a Design Coordinator/Manager you will co-ordinate commercial and design teams and ensure range of options is considered where appropriate
Contribute to Risk and Value Management
Manage design team and review and agree design programme, deliverables and cost parameters
Maintain information flow and overview design team's co-ordination and verification process
Provide advice and guidance on build ability of design proposals to design and construction teams
Monitor, manage and approve design changes in conjunction with Planning and Commercial Teams, ensuring programme and cost effects are agreed
Involve design team in supply chain and procurement
Identify need for and manage specialist contractor designs along with Identifying and managing third party involvement
Contribute to ensuring safe design in accordance with CDM
Contribute to provision of "As Built" information and O&M manuals
Maintain BMS systems and compile design performance data
The Design Coordinator/Manager will produce appropriate design related contract notices with reference to contract procedures and scope
Any other reasonable task that may be required by the line manager
Necessary Requirements:
3rd level qualification in construction or engineer with at least 5 years' experience in a similar role working for a recognised main contractor or subcontractor.
Ideally the Design Coordinator will be a qualified Structural Engineer
Working knowledge of equipment and systems.
Excellent organisational, planning and time management skills; able to manage projects simultaneously without compromising on standards and quality.
Good communication skills
Ability to develop friendly and professional customer focused relations with others.
Good management skills, with the ability to motivate employees to achieve high standards of compliance.
Confidence and ability to manage sub-contractors
Flexible and dynamic
Self-driven, results-orientated with a positive outlook
For more information about this Design Coordinator opportunity or other Design Coordinator/Design Manager positions, contact Eavan McCallig at Oradeo Recruitment confidentially on +353 1 687 7188/+44 845 643 4964 or apply in confidence.
About Oradeo– Oradeo Recruitment are specialists in the construction & engineering sector. We are a leading service provider in Ireland, UK, Europe and Middle East for professional recruitment services (Executive search/Directors, Operations Managers, Regional Managers, Senior Quantity Surveyors, Quantity Surveyors, Contract Surveyors, Contracts Managers, Commercial Manager, Site Engineer, Senior Engineer, Project Managers, Design Coordinator, Design Manager) and the provision of managed labour in Construction & Civil Engineering, Oil & Gas, Mechanical & Electrical, Warehousing and Logistics and Industry