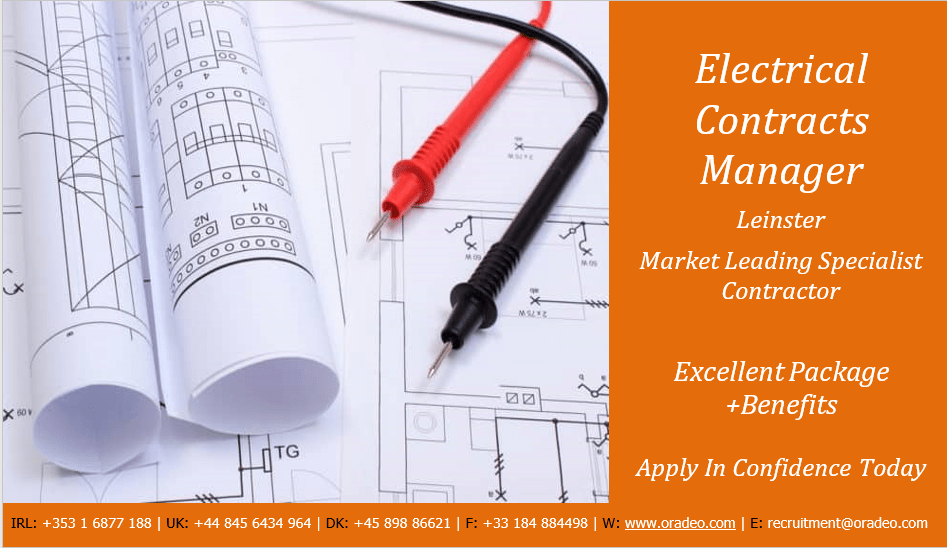 Electrical Contracts Manager – Leinster (EMC)
Electrical Contracts Manager
Large international market leading M&E Contractor
Excellent package on offer with clear scope for career development
Large prestigious projects for many well-known blue-chip clients within Pharmaceutical, Data Centre and Industrial sectors
Oradeo Recruitment is presently seeking interest for an experienced Contracts Manager (Electrically biased) with strong Building Services background initially to work on an array of industrial, pharmaceutical and data centre projects in Ireland and Europe.
Oradeo Recruitment's client is an International Mechanical and Electrical Company which has gained significant experience across a wide section of construction sectors including commercial, industrial, data centre, pharmaceutical or power generation on both public and private tenders/projects.
As a Contracts Manager you will be supervising a projects team of approximately 50 construction professionals and ultimately you will take full responsibility for the safe, timely execution of the projects in accordance with the budgetary, programme and quality requirements. This is a senior role and the package on offer will be very much reflective of that. We are seeking a Contracts Manager who has similar experience with a top M&E contractor either in Ireland or Europe on large scale RC Pharma/Biogen/Petrochem projects from pre-site to completion/handover.
Responsibilities:
Coordinate Electrical design, work with consultants and subcontractors
Supervise the progress of work
Project target margins are achieved or exceeded
As an Electrically biased Contracts Manager, you will prepare the project programme, including the delivery strategy and ensure project milestones are achieved
Ensure smooth and timely flow of information between all parties to the contract.
Endeavour to identify and predict potential bottlenecks and delays and action remedies
Keeping the project stakeholders informed of progress, cost and any other relevant issues.
Review project scope, and manage the budget and schedule.
Manage safety and quality aspects of the project in accordance with company procedures
Agree valuations and final accounts with contractors and sub-contractors.
Establish performance and delivery criteria, ensuring that client requirements are being met
As part of the day to day duties, the Electrically biased Contracts Manager will be tasked to develop and administer quality control provisions; liaise on project cost estimating and value engineering, as appropriate
Liaise with the client on KPI development and implementation
Track and report at weekly client update meetings
Authorise the issuance of contracts, purchase orders, and change orders in addition to approving contractor invoices for payment
As a member of the management team, the Electrical Contracts Manager will represent the Company in business with customers, consultants, contractors, and other public and/or private agencies and organisations
Research and prepare various reports pertaining to contractual issues, operations, policies, procedures, and/or other issues, as appropriate
Planning of all resources including labour, materials and sub-contractors
As a Contracts Manager you will be tasked with managing and driving a large team to meet with all project requirements and deadlines
Develop a constructible and detailed schedule with the project planner
Necessary skills and requirements:
3rd level Qualification in Electrical Engineering/Building Services Engineering – or strong senior trades background
12+ years of experience in an Electrical Project Manager/Contracts Manager role working for a recognised M&E Construction company within Ireland, UK or Mainland Europe
A strong technical background in contracting is essential for this role
Previous record of delivering £30m+ Electrical projects including some or all of the follows sectors; Industrial, Pharmaceutical or Data Centres
Strong operational skills and an attention to detail, and experience of the design build process
Strong written communication abilities, and the ability to negotiate a strong commercial position for the company are also essential
The ability to multi-task and take an overview on a large number of projects at any time
For more information about this Electrically biased Senior Project Manager/Contracts Manager opportunity or other Contracts Manager roles, contact Eavan McCallig at Oradeo Recruitment confidentially on +353 1 687 7188/+44 845 643 4964 or apply in confidence.
About Oradeo- Oradeo Recruitment are specialists in the construction & engineering sector. We are a leading service provider in Ireland, UK and Europe for professional recruitment services (Senior Quantity Surveyors, Quantity Surveyors, Contract Surveyors, Contracts Managers, Commercial Manager, Site Engineer, Senior Engineer, CSA Project Managers, Mechanical Project Managers, Electrical Project Managers, Document Control/Site Administrators etc.) and the provision of managed labour in Construction & Civil Engineering, Oil & Gas, Mechanical & Electrical, Warehousing and Logistics and Industry