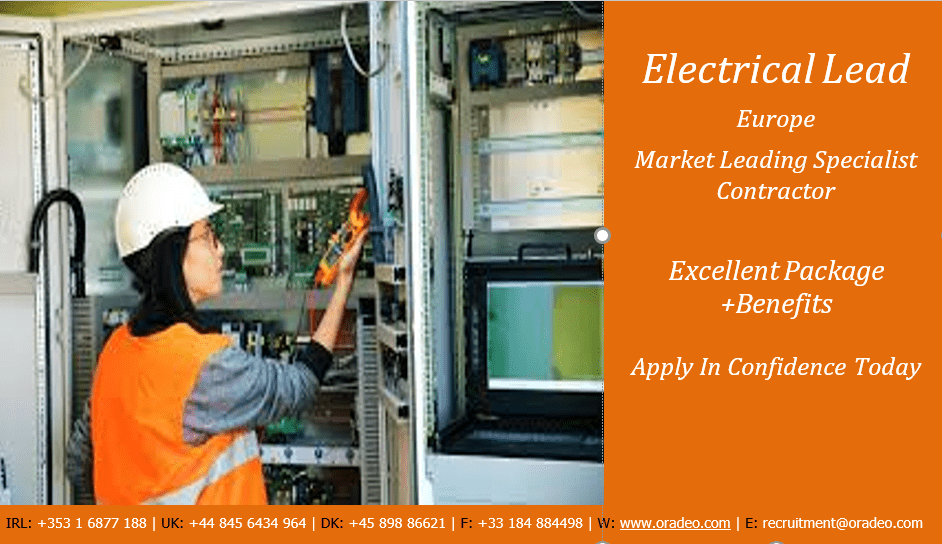 Electrical Lead Europe (EMC)
Electrical Lead | Tier 1 M&E Contractor | Europe
Top European Tier 1 M&E Contractors with significant annual turnover.
Excellent career progression opportunities along with a generous package.
Exposure to large, interesting and prestigious projects.
Oradeo Recruitment is presently seeking interest for an experienced Electrical Lead ideally with solid main contractor / specialist subcontractor experience to join one of Europe's leading Tier 1 M&E Contractors based in Europe.
The ideal candidate must be a self-starter with the initiative and skills to manage his/her workload to meet necessary deadlines. Excellent time management, prioritizing and communications skills are essential.
CSA Engineer Responsibilities:
Management of the Electrical Systems package.
Management of Site Safety in conjunction with the Project Manager and the Safety Advisor. This will include the setup, management of and closing out of the safety file as part of the Management team.
Drive a focused Quality. Health, Safety and Environmental culture within your team.
Management of Site QA in conjunction with the QA Manager including set up, management and close out of file
Management of Project Schedule in conjunction with the Project manager, consulting Engineer and Client requirements
Management of all costs associated with your package including:
Electrical Team
Sub-contractors
Material deliveries and goods receipting.
Plant and Equipment
Variations
Valuations
Management of all day to day site operations
Ensure company Policies and procedures are followed closely.
Management of sub-contractor activities including tracking progress against schedule and manpower levels. Ensure that there is a weekly minuted meeting with sub-contractor.
Management of the company snagging system ensuring that the supervisors return weekly punch lists where applicable. Ensure all snags are distributed to all Sub-contractors
Issue direct labour hours and sub-contractor hours to time administrator for tracking centrally.
Attendance at Site Meetings, Internal Project Reviews, Engineering Reviews, Planning and Co-ordination Meetings and Handover Meetings
Close out of all project items including Final Account, O & M Manuals, Punch List, Safety File, QA File, Material and Plant re-locations, Project Plan – all with the support of the site project manager and your project team.
Issue weekly cost reports. This will include all orders placed, materials expected, and labour levels.
Issue internal weekly progress report rolled up from project supervisors report. This will highlight progress percentage complete based on WBS codes and any concerns. It should also highlight any risk elements within the control of the company, e.g.: late deliveries.
Issue external weekly progress report, to the project manager, highlighting areas not available, delays, shortage of design, third party hold ups and percentage complete.
Schedule material deliveries to correspond with the project schedule. Track deliveries in particular.
Maintain a weekly project photographic diary
All other duties associated with the role.
Necessary skills and requirements:
An engineering qualification or relevant work experience
Good Computer skills in word, excel etc.
Fluent English
A trade background
Proven record of co-coordinating and managing large projects
A minimum of 6 years in an Lead or equivalent role
Excellent communication skills
Team player with ability to build effective relationships at all levels
Strong interpersonal skills, ability to work well within a friendly team
Career driven, ambitious and enthusiastic
Ability to work well under pressure and within a strict deadline environment
Ability to drive a large scale project
A construction background
Good Computer skills – Windows, MS Office
Experience of working on large commercial projects e.g. data centres, pharmaceutical projects etc. preferred
For more information about this Electrical Lead role or other M&E opportunities, contact Eavan McCallig at Oradeo Recruitment confidentially on +353 1 687 7188/+44 845 643 4964 or apply in confidence.
About Oradeo – Oradeo Recruitment are specialists in the construction & engineering sector. We are a leading service provider in Ireland, UK and Europe for professional recruitment services (CSA Engineer, Senior Engineer, Senior Site Engineer, Senior Project Engineer, Site Engineer, Project Engineer, Setting out Engineer, Assistant Project Manager, and Project Managers etc.) provided to many market leading Main Contractors, Specialist Contractors, Subcontractors, M&E Contractors, Client Side Organisations, Developers, Architecture practises, Construction Consultancies etc. Oradeo also specialises in the provision of managed labour in Construction & Civil Engineering, Oil & Gas, Mechanical & Electrical, Warehousing and Logistics and Industry