Electrical Supervisor (EMC)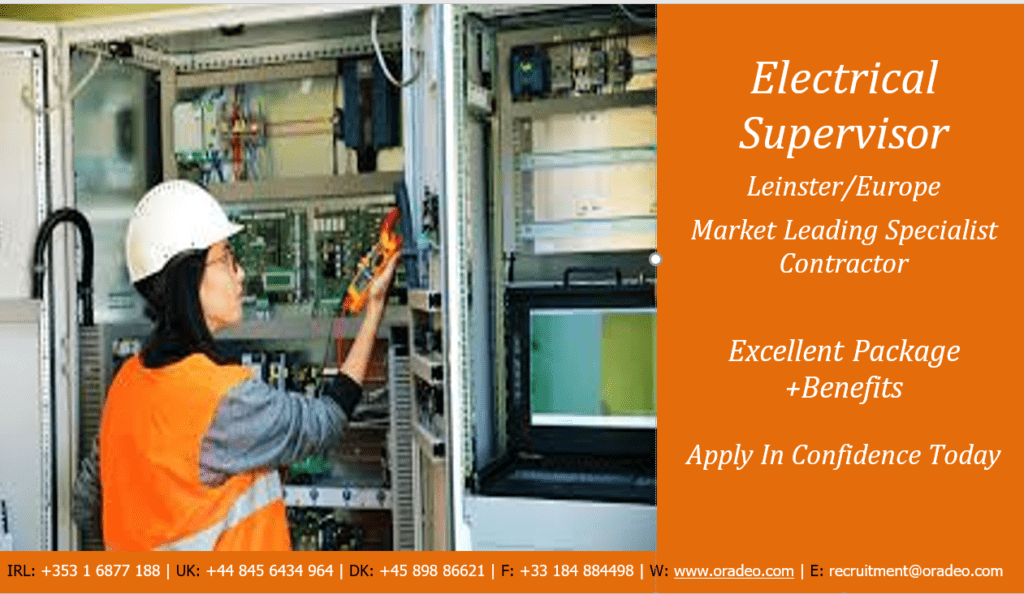 Electrical Supervisor | Mainland Europe or Dublin
Large international market leading main contractor
Large prestigious projects
Oradeo recruitment is currently recruiting for an Electrical Supervisor to work with a market leading contractor in Mainland Europe or Dublin on a permanent basis working on a prestigious project.
The ideal candidate must be a self-starter with the initiative and skills to manage his/her workload to meet necessary deadlines. Excellent time management, prioritizing and communications skills are essential.
Duties and Responsibilities:
Coordinating and Planning of resources including labor, materials and sub-contractors
Manage and drive a team to meet with all project requirements and deadlines
Ensure the adherence to safety and quality standards
Experience working with a Mechanical/Electrical contractor
Proven record of co-coordinating and managing projects
Strong Electrical experience
Prepare relevant reports
Ensure the adherence to safety and quality standards
Reporting on progress
Necessary Requirements:
An engineering qualification or relevant work experience
Good Computer skills in word, excel etc.
Fluent English
Flexible to travel
A trade background
Proven record of co-coordinating and managing large projects
Ideally the Electrical Supervisor will possess experience within the following sectors including pharmaceutical, biogen, industrial, semiconductor, clean room, labs, hospitals, data centres, etc. in excess of €10 million.
A minimum of 4 years in a Supervision role
Excellent communication skills
Team player with ability to build effective relationships at all levels
Strong interpersonal skills, ability to work well within a friendly team
Career driven, ambitious and enthusiastic
Ability to work well under pressure and within a strict deadline environment
Ability to drive a large scale project
A construction background
Good Computer skills – Windows, MS Office
For more information about this Electrical Supervisor position or other opportunities, contact Eavan McCallig at Oradeo Recruitment confidentially on +353 1 687 7188 / +44 845 643 4964/ +45 8988 6621 or apply in confidence.
About Oradeo – Oradeo Recruitment are specialists in the construction & engineering sector. We are a leading service provider in Ireland, UK and Europe for professional recruitment services and the provision of managed labour in Construction & Civil Engineering, Oil & Gas, Mechanical & Electrical, Warehousing and Logistics and Industry