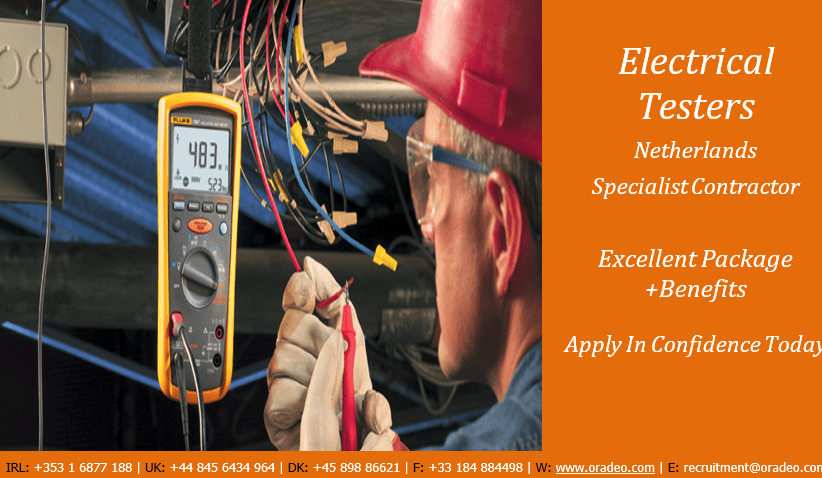 Electrical Testers – Netherlands (EMC)
Electrical Testers
Oradeo Recruitment currently has vacancies for experienced LV Electrical Testers for a large commercial project in mainland Europe This project is part of a number of similar works our client has on their portfolio so there is great prospect in continued work should the applicant be considered for this role. Flights, accommodation, and daily travel is provided throughout the length of the project.
Duties
Knowledge and skill in safe operation and application of instrumentation to include circuit testers, power analysers, ground rod resistance meters, ground fault loop impedance testers and residual circuit device testers
Skill in classifying electrical distribution systems, troubleshooting, identifying circuit faults and fault loop circuit paths, and proper grounding and bonding
Ability to read and interpret drawings, schematics, instructions, and other technical documentation
Fluent in reading, writing and speaking and understanding English
Assign duties and inspect the work of electrical trades, ensuring safety training and code compliance
Inspect existing facilities and installations as required by statement of work
Recommend improvements and revisions to current maintenance procedures
Perform other duties as required
Requirements
Minimum 8 years of experience in a similar role in the Ireland / UK / Mainland Europe
Valid national trade card/certificate and further training as required
Be able to provide at least 2 working references
Previous Data Center experience preferred but not essential.
Current valid passport/national ID
For more information about these opportunities or other positions, contact Oradeo Recruitment confidentially on +353 1 687 7188 or apply in confidence.
About Oradeo – Oradeo Recruitment are specialists in the construction & engineering sector. We are a leading service provider in Ireland, UK, Europe and Middle East for professional recruitment services (Executive search/Directors, Operations Managers, Regional Managers, Senior Quantity Surveyors, Quantity Surveyors, Contract Surveyors, Contracts Managers, Commercial Manager, Site Engineer, Senior Engineer, Project Managers) and the provision of managed labour in Construction & Civil Engineering, Oil & Gas, Mechanical & Electrical, Warehousing, Logistics and Industry.