Financial Analyst | West of Ireland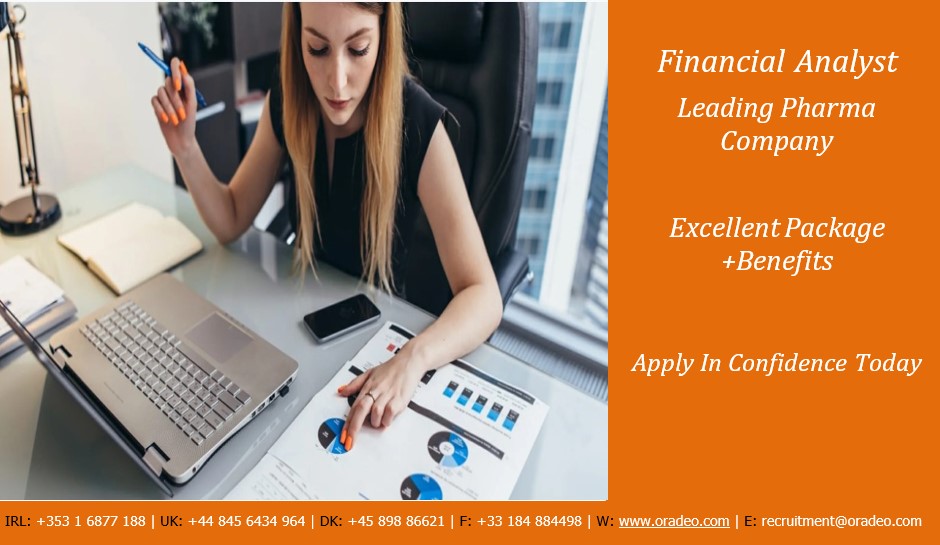 Financial Analyst | West of Ireland
Leading Pharma Company in the West of Ireland
Excellent career progression opportunities along with a generous package.
Oradeo Recruitment is presently seeking interest for a Financial Analyst to join the team in Europe. This is a new role driven by the rapid expansion of the business across Europe. The role will provide essential support to the Senior Financial Analysts
Main Duties and Responsibilities:
Prepare analysis of monthly, quarterly and annual results compared to forecast, budget, and prior year for Chatillon in France.
Prepare the monthly revenue accruals and perform reconciliations for SOX controls for Chatillon in France.
Oversee a small number of cost centre reports and build the annual budget for Edinburgh.
Perform analysis of revenue activities including: monthly revenue verification, forecast variance analysis and contract reviews.
Assist with the preparation of Capital Expenditure Requests (CERs) and Return on Investment and payback analysis associated with CERs. Support the Senior Financial Analysts in Europe with the monthly review of capital spend.
Assist the Senior Financial Analysts in Europe with the monthly forecast, annual budget and strategic plan processes.
Assist the Senior Financial Analysts in Europe with the preparation of the monthly financial results and key performance indicators for the monthly business reviews with the Biologics Senior Leadership Team.
Assist with site optimization initiatives across Europe. Partner with the local site optimization leads to set and agree short term priorities, meet key delivery milestones and ensure a continuous pipeline of future improvement projects for each site.
Assist with pricing initiatives across Europe working closely with the Senior Financial Analysts and the Senior Pricing Manager in Biologics Finance.
Provide ad-hoc analysis and insights on specific issues to help drive and improve performance such as customer and service line profitability.
Assist Shared Services Finance with the provision of information to internal and external auditors, including statutory reporting.
Minimum Requirements:
Bachelor's degree (BA/BS) or equivalent required
Recognised accounting qualification (ACA/ACMA/ACCA) or equivalent with 5 years PQE required
A minimum of 3 years relevant experience in a financial analysis role.
Advanced MS Office skills required (in particular Excel and PowerPoint)
SAP skills preferred
Excellent verbal and written communication skills. Fluent in English.
Be willing to travel to our sites in Europe
Developing effective working relationships with the business
Engaging and influencing stakeholders
Strong analytical and problem-solving skills
Dynamic, driven, proactive and adaptable
For more information about this position or other opportunities, contact Irene Hegarty at Oradeo Recruitment confidentially on +353 1 687 7188 or apply in confidence.
About Oradeo – Oradeo Recruitment are specialists in the life sciences, pharmaceutical, construction & engineering sector. We are a leading service provider in Ireland, UK and Europe for professional recruitment services and the provision of managed labour in Construction & Civil Engineering, Data centres, Mechanical & Electrical, Life Sciences and Renewable Energies sectors