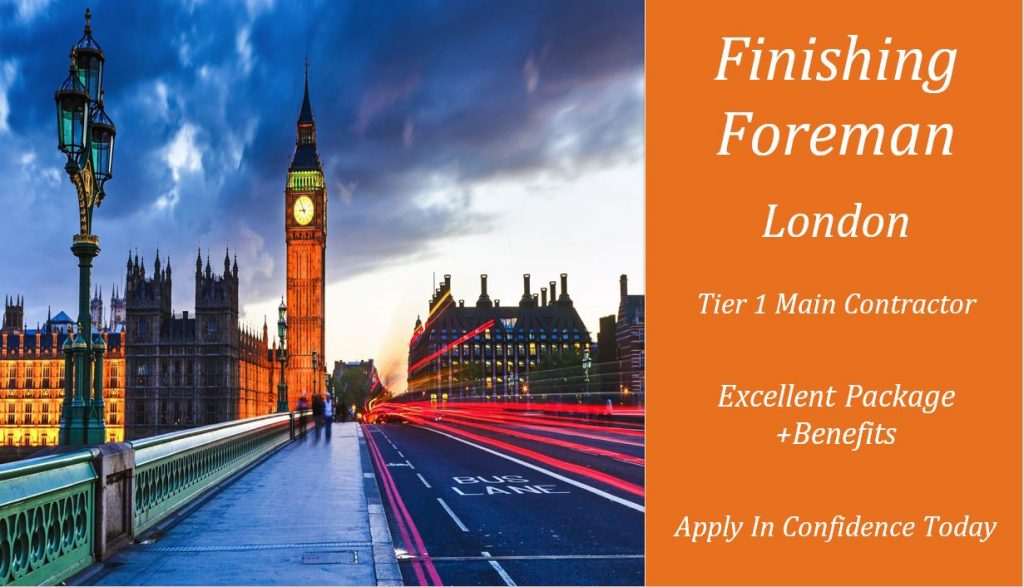 Finishing Foreman job in London with Tier 1 Main Contractor
Market leading Tier 1 Main Contractor with significant annual turnover
Excellent salary with heaps of additional benefits along with clear scope for career development
Family Friendly & Flexible
Oradeo Recruitment is currently recruiting for a Finishing Foreman (ideally from a trades background) to work with a market leading international Tier 1 Main Contractor based in London. The successful applicant will have the opportunity to work on a multitude of exciting and large projects across multiple facets of the industry. An excellent package will be on offer to the right candidate.
Oradeo Recruitment's client is an international Tier 1 Main Contractor operating across the UK, Ireland and Europe with a broad portfolio of successfully completed projects across a range of sectors including Residential, Restoration / Refurbishment, Hospitality, Commercial, Industrial, Healthcare and Pharmaceutical dealing with many high profile blue chip clients.
Duties and Responsibilities of the Finishing foreman:
As a Finishing Foreman you will be tasked with the management of tradesmen and apprentices under your control
Reporting on Progress and Quality to the Project Manager
Identifying any possible hold ups/issues that may affect project progress
Safe control of all site based operations
Ensure all tasks on site are completed in line with company and client procedures and specifications
Ensure all sectional 'sign off' sheets are completed in accordance with company procedures
Coordinate the delivery of materials in accordance with program requirements
Liaise with Clerk of Works/Project Managers
Ensure that all persons working under your control are suitably trained and skilled
Ensure that tasks are carried out in the most efficient manner possible whilst maintaining the utmost standards of quality control and achieving optimum results for the project
Manage snagging of a section of works
Keep an accurate site diary
Manage the Permit to Work system, ensuring all permits required are issued before work commences and that permits are closed out accordingly
Ensure compliance with all Fire, Traffic and Health & Safety Plans
Ensure that all accident/incidents/near-misses are reported
Ensure that all workers under your supervision utilise correct PPE and work in accordance with site Health & Safety regulations
Necessary Skills & Requirements:
Have a minimum of 5 years' experience in a Finishing Foreman role on large scale projects in the UK
Ideally you will come from a carpentry trades background
Have a sound and demonstrable knowledge of construction techniques
Ability to organise/manage groups of multi-national trades
Knowledge of standards and specifications
Excellent organisational, planning and time management skills; able to manage projects simultaneously without compromising on standards and quality
Good communication skills
Confidence and ability to manage sub-contractors
Flexible and dynamic
Self-driven, results-orientated with a positive outlook
For more information about this Finishing Foreman role or similar Finishes Manager/Finishing Foreman opportunities, contact Kevin Nolan at Oradeo Recruitment confidentially on +353 1 687 7188/+44 845 643 4964 or apply in confidence.
About Oradeo- Oradeo Recruitment are specialists in the construction & engineering sector. We are a leading service provider in Ireland, UK and Europe for professional recruitment services. Oradeo also specialise in the provision of managed labour in Construction & Civil Engineering, Oil & Gas, Mechanical & Electrical, Warehousing and Logistics and Industry