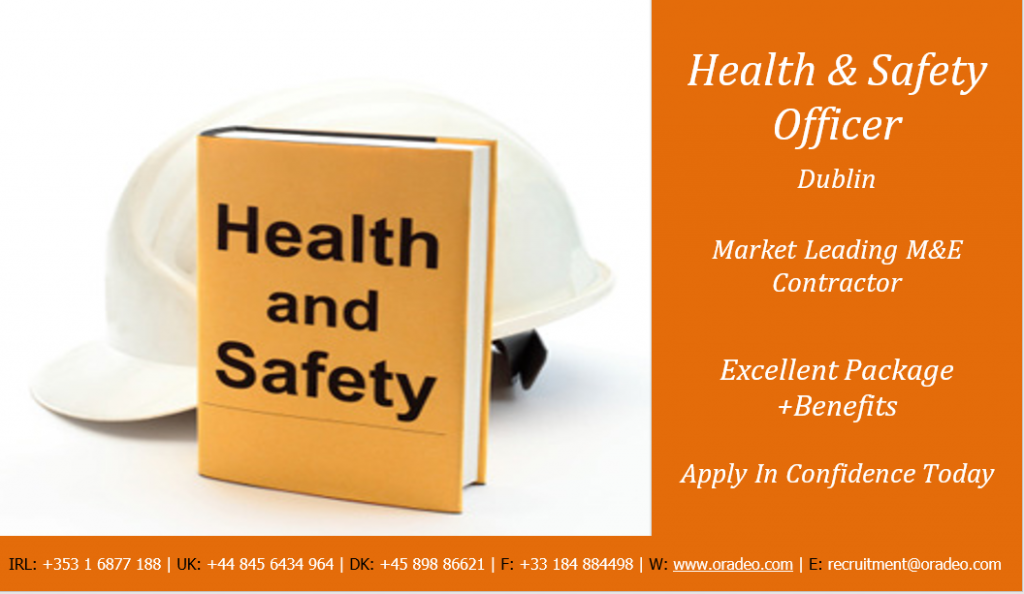 Health and Safety Advisor Leinster (EMC)
Health and Safety Officer
Top 5 main Irish building contractor.
Excellent opportunity for career growth and development.
Dublin based location on a prestigious project.
Health and Safety Officer required for a leading main Irish building contractor based in Dublin on a variety of large and prestigious projects. The Health and Safety Officer will be responsible for developing and maintaining safety procedures, preparing method statements, conducting risk assessment and carrying out site inspections and corrective measures. The Safety Officer will report directly to the Health and Safety Manager who will provide both training and support to ensure success and career development.
This is an excellent opportunity to be part of a growing organisation and the successful candidate will receive an excellent remuneration package and a clear scope for career progression throughout the organisation.
Duties and responsibilities:
As a Health and Safety Officer you will assist in developing, monitoring, implementing and auditing health and safety procedures and policies for the business.
Coordinate the Health and Safety committee for all sites and ensure regular weekly and monthly meetings.
Update and maintain Health and Safety policies and procedures and the organisations safety statement in compliance with regulatory requirements.
Improve Health and Safety culture through training and awareness.
Represent the company during outside agency audits/inspection and liaise as required with the health and safety authority.
Keep record of incidents and accidents and produce statistics for senior management.
Keep up to date on new legislation and maintain a working knowledge of all Health and Safety Authority legislation and any development affecting the industry.
Complete safety induction training for all new employees and subcontractors and maintain documentary evidence of same.
Identify new and on-going safety related training requirements, ensuring all mandatory training is reviewed and delivered on time.
Review subcontractor safety statements and safety compliance
Necessary skills and requirements:
Third Level education in Health and Safety or related discipline is required
A minimum of 3 years Health and Safety experience with a main contractors
Qualification in manual handling instruction would be an advantage
Experience in leading and carrying out Risk Assessment
Previous knowledge of OHSAS 18001 and ISO 14001 systems
Ability to deliver training modules to all levels of the Organisation to include, first aid, manual handling and fire warden training
Highly motivated and meticulous in attention to professional standards
Ability to work in a team environment and can engage, motivate and work with people
Excellent organisational and co-ordination skills
Good communication skills
Knowledgeable in Excel, Microsoft Word and Microsoft Windows Operating System
For more information about this role or others, contact Eavan McCallig at Oradeo Recruitment confidentially on +353 1 687 7188 or apply in confidence.
About Oradeo- Oradeo Recruitment are specialists in the construction & engineering sector. We are a leading service provider in Ireland, UK and Europe for professional recruitment services (Health & Safety Officers, Health & Safety Coordinators, Health & Safety Managers, Contracts Managers, Commercial Manager, Site Engineer, Senior Engineer, CSA Project Managers, Mechanical Project Managers, Electrical Project Managers, Document Control/Site Administrators, Health and Safety etc.)