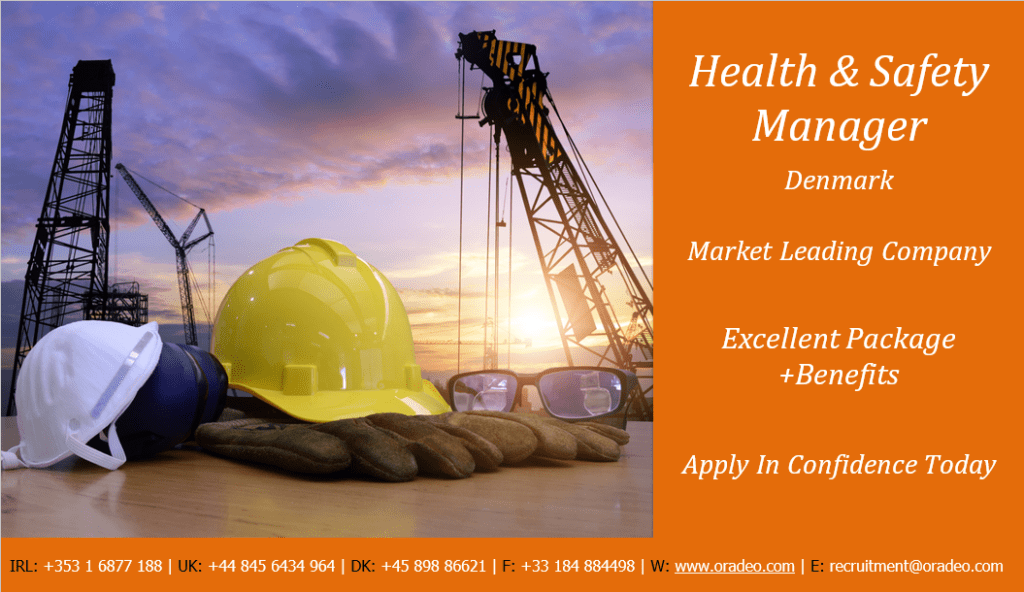 Health & Safety Manager | Denmark
Health & Safety Manager | Denmark
Oradeo is currently recruiting a Health and Safety Manager with solid previous experience working for a main contractor/Consultancy. The successful candidate will be working for one of the leading international specialists in construction, infrastructure, fit-out and asset management.
This is an exciting opportunity to be part of a dynamic and growing company. The successful applicant will be an experienced self-starter who has the capability to operate and maintain the ISO systems and drive improvement across each project/region.
The position is permanent and the successful candidate will be responsible for the implementation of SHE for a large data centre project in Denmark. You will play a key role in supporting the on-site operations to towards the successful completion of projects in a safety, time and profitable manner.
Duties & Responsibilities:
Develop, monitor, implement and audit Health and Safety procedures/policies in business
Update and maintain Health and Safety procedures and the Organisation's Safety Statement in compliance with Regulatory requirements
Carry out risk assessments and ensure risks are reduced
Keep record of incidents and accidents and produce statistics for senior management
Keep up to date on new legislation and maintain a working knowledge of all Health and Safety Authority (HSA) legislation and any developments effecting the Industry
Provide Training; Induction, Refresher and Manual Handling Training as required
Represent the Company during outside Agency Audits/Inspections and liaise as required with the Health & Safety Authority
Co-Ordinate the Health and Safety committee for all sites and ensure regular monthly meetings
Improve the health and safety culture, through training and awareness campaigns
Deal with any ad-hoc duties that may arise
Necessary Requirements:
A Degree in occupational Health & Safety/NEBOSH desirable but not essential.
No less than 8+ years of professional experience with main contractors/Consultancies.
A proven track record in Data Centre, Pharmaceutical or Industrial projects is advantageous.
Must be comfortable in carrying out training, risk-assessments and other Health & Safes reports.
Excellent written and oral communication skills with emphasis on ability to provide and explain reports accurately.
Excellent organisation and time management skills and ability to manage multiple priorities.
Up to date with Legislation, Guidance, Advice & Compliance.
Proactive in identifying positive & negative acts, ability to follow through with realistic corrective & preventive actions
For more information about this Health & Safety Manager role or other positions, contact Declan Duggan at Oradeo Recruitment confidentially on +353 1 687 7188/+44 845 643 4964 or apply in confidence.
About Oradeo – Oradeo Recruitment are specialists in the construction & engineering sector. We are a leading service provider in Ireland, UK and Europe for professional recruitment services and the provision of managed labour in Construction & Civil Engineering, Data centres, Mechanical & Electrical, Life Sciences and Renewable Energies sectors