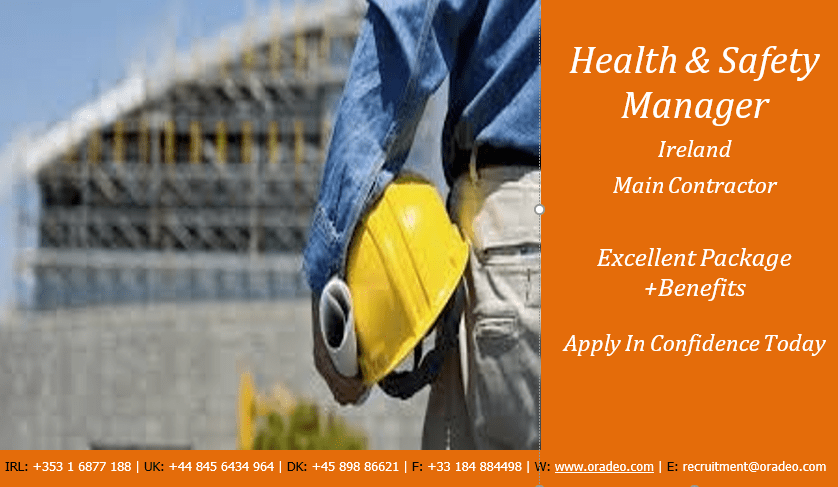 Health & Safety Manager – Main Contractor (EMC)
Health & Safety Manager – Main Contractor
Overview:
Health & Safety Manager with Main Contractor – Oradeo Recruitment are seeking a Health and Safety Manager. Our client are one of the largest and most successful main contractors in Ireland with a portfolio of projects across a multitude of sectors across the country. This role will see you based exclusively on Dublin based projects.
The Role:
As a Health & Safety Manager, you will be responsible for health and safety on projects across various sectors and sites within Dublin; commercial, residential, hospitality, education, industrial etc. Operating within an established support network and liaising closely with a Health and Safety Manager you will assist in driving health and safety standards. Certified environment- ISO 9001, 14001, OHSAS 180001.
You Will:
Ensure Health and Safety remains a priority across building sites
Maintain company's high health and safety standards
Perform site audits and implement new procedures
Update Organisation's Safety Statement in compliance with current regulatory requirements
Perform risk assessments and recommend improvements
Records incidents and accidents whilst creating analytical data for senior management
Remain abreast new legislation and maintaining a working knowledge of all Health and Safety Authority (HSA) legislation
Execute Site inductions and refresher courses
Act as a company representative during outside Agency Audits/Inspections with regards to Health and Safety
Attend regular site meetings
Strive to consistently improve the health and safety culture
You Should Have a:
Formal qualification in Health & Safety – 3rd Level is preferred
A minimum of 6 years Health and Safety experience – ideally with a main contractor
Previous experience in ISO 9001, 14001, OHSAS 18001 accredited environments
For more information about this role or others, contact Eavan McCallig at Oradeo Recruitment confidentially on +353 1 687 7188 or apply in confidence.

About Oradeo- Oradeo Recruitment are specialists in the construction & engineering sector. We are a leading service provider in Ireland, UK and Europe for professional recruitment services (Senior Quantity Surveyors, Quantity Surveyors, Contract Surveyors, Contracts Managers, Commercial Manager, Site Engineer, Senior Engineer, CSA Project Managers, Mechanical Project Managers, Electrical Project Managers, Document Control/Site Administrators, health and safety etc.) Oradeo also specialise in the provision of managed labour in Construction & Civil Engineering, Oil & Gas, Mechanical & Electrical, Warehousing and Logistics and Industry