Industrial Electrician's Required (EMC)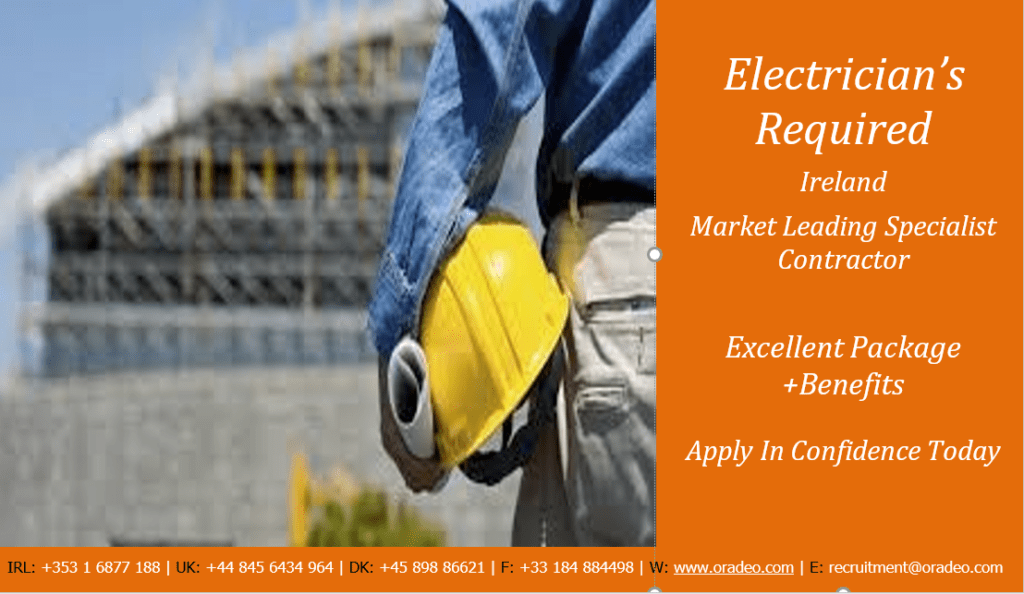 Industrial Electrician
We are currently seeking a number of qualified and experienced mechanical and electrical trades to support construction of a large-scale industrial facility based in West Dublin / North Kildare. We are now seeking a number qualified and experienced Electricians on site. This is an excellent opportunity to for the right candidates to secure long-term work on a key project. Top rates of pay and conditions provided to successful applicants.
Duties & Responsibilities:
Glanding and termination of cables as required and in line with industry standards in a safe and productive manner at all times.
Install cable tray systems, containment and pulling in of cables as required.
Installation of small power and lighting, earthing systems and PLC's as per site requirements.
Installing Light & Small Power Systems
You maybe required to prefabricate and install containment systems in line with site drawings and instruction provided Planning of works to ensure production schedules are achieved, while ensuring a high-level of safety at all times.
Working in line with site instructions and RAMS, and working to recognized industry standards.
Focus on job specifications for the project with a high level of attention to detail
Ensure that all quality standards and high-level safety regulations are met and exceeded.
Opportunities for promotion into a supervisory roles on the project.
Requirements:
Previous experience on large industrial electrical projects such as pharmaceutical, micro chip power generation or data centers is desirable.
Recognized Industry electrical qualifications
Safe Pass / CSCS
IPAF MEWP
Covid-19 Induction
Manual Handling
Own basic hand tools
Apply Now:
If you are interested in this position and have the qualifications/experience requested, please email your application with the following:
Copy of your most up to date CV Please include specific details of your experience
Copies of your Valid Tickets/Certificates
Details of availability
For more information about this opportunity or other positions, please contact Eavan McCallig confidentially on + 353 1 6877 188 or apply in confidence for a call back.