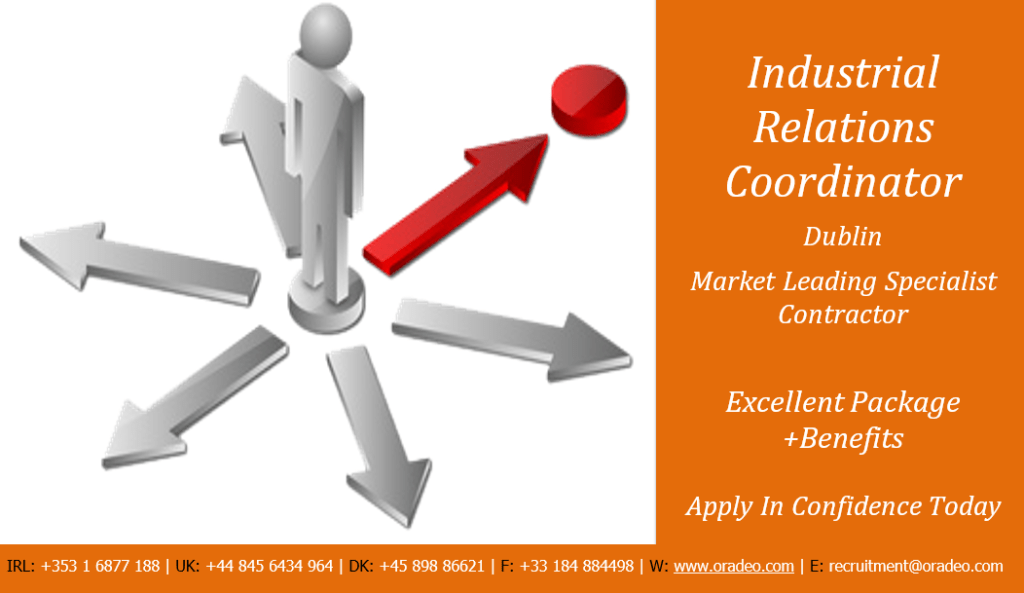 IR Coordinator
IR Coordinator – Dublin
Oradeo Recruitment is currently seeking applications for an IR Coordinator based in Dublin.
Prepare, record, maintain summary of Weekly Labour Returns from all projects and issue same to directors.
Recruit and check references for available brick layers, crane drivers, banksmen and apprentices. Complete site eng contracts and issue to the payroll dept.
Draw up, complete SECs (site engagement contracts), copying to JPC wages (Paula Coleman) and saving to respective files file in WS. Ensure their documentation in order (Safepass and Manual Handling certs)
Liaise with payroll dept regarding wages / CIF agreements and site allocation of brick layers.
Ensure safety related certs are up to date.
Co-ordinate and allocate brick layers.
Maintain good relations with brick laying shop steward.
Maintain good working relationship with agency representatives.
Maintain working relations, with the IR section of CIF and IR Representatives with other main contractors.
Administration – upload relevant documents on the document share system.
Requirements:
Excellent knowledge of Industrial Relations.
Previous experience in Construction is beneficial.
Excellent organisation & interpersonal skills.
For more information on this role or other Construction roles, contact Sean Barrett on +353 16877188.
About Oradeo- Oradeo Recruitment are specialists in the construction & engineering sector. We are a leading service provider in Ireland, UK and Europe for professional recruitment services and the provision of managed labour in Construction & Civil Engineering, Data centres, Mechanical & Electrical, Life Sciences and Renewable Energies sectors.