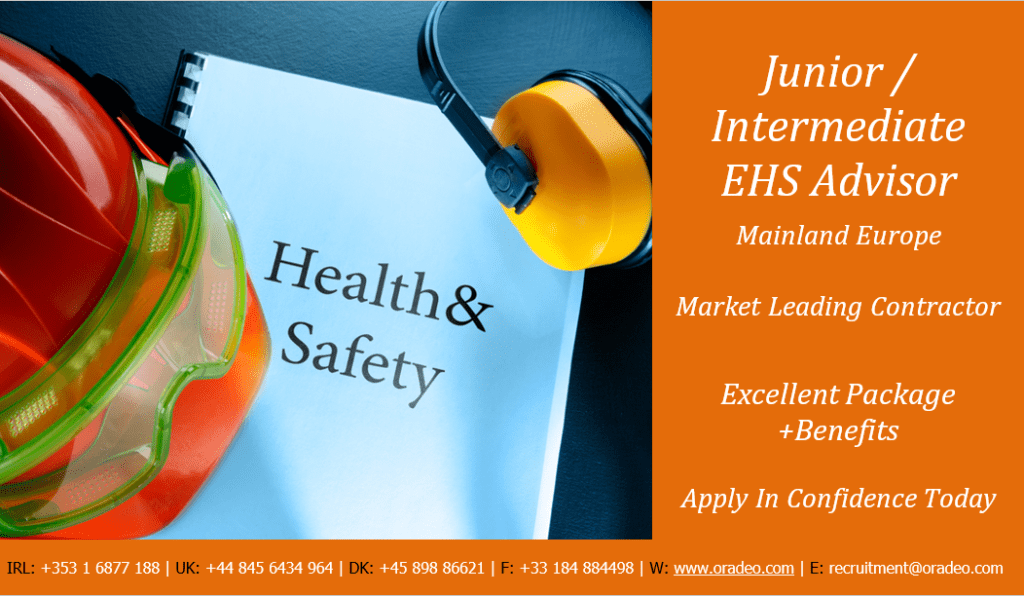 Junior / Intermediate EHS Advisor | Europe
Junior / Intermediate EHS Advisor | Europe | Top Contractor
Leading Irish M&E Contractor with significant annual turnover (€150M+)
Working on prestigious projects – Data Centre, Pharmaceutical etc.
Oradeo Recruitment is currently recruiting a Junior / Intermediate EHS Advisor to be based in Mainland Europe for a market leading contractor. This is an excellent opportunity for an individual to be heavily involved in blue-chip, prestige projects such as data centres, pharmaceutical labs, heavy industry, utilities & power generation etc.
Oradeo Recruitment's client is an International Company which has gained significant experience across a wide section of construction sectors including commercial, industrial, data centre, pharmaceutical or power generation on both public and private tenders/projects.
This is an exciting opportunity to be part of a dynamic and growing company. As a EHS Advisor coming from an engineering or building services background you will join this growing multi-disciplined engineering design and construction team. You will play a key role in supporting the on-site operations to towards the successful completion of projects in a safety, time and profitable manner. In return, you the EHS Advisor will receive professional and personal development opportunities to help you become a future leader within the organisation.
Overview of responsibilities:
Develop, monitor, implement and audit Health and Safety procedures/policies in business
Update and maintain Health and Safety procedures and the Organisation's Safety Statement in compliance with Regulatory requirements
Carry out risk assessments and ensure risks are reduced
Keep record of incidents and accidents and produce statistics for senior management
Keep up to date on new legislation and maintain a working knowledge of all Health and Safety Authority (HSA) legislation and any developments effecting the Industry
Provide Training; Induction, Refresher and Manual Handling Training as required
Represent the Company during outside Agency Audits/Inspections and liaise as required with the Health & Safety Authority
Co-Ordinate the Health and Safety committee for all sites and ensure regular monthly meetings
Improve the health and safety culture, through training and awareness campaigns
Deal with any ad-hoc duties that may arise
Necessary skills and requirements:
Third Level education in Health and Safety or related discipline is required
2-5 years Health and Safety experience with mechanical/electrical contractors
Prior experience essential on projects in one of more of the following sectors; data centre or pharmaceutical
Environmental Health & Safety (ISO 14001) would advantageous
For more information about this EHS Advisor role or other Health and Safety roles, contact Declan Duggan at Oradeo Recruitment confidentially on +353 1 687 7188 / +44 845 643 4964 or apply in confidence.
About Oradeo – Oradeo Recruitment are specialists in the construction & engineering sector. We are a leading service provider in Ireland, UK and Europe for professional recruitment services and the provision of managed labour in Construction & Civil Engineering, Data centres, Mechanical & Electrical, Life Sciences and Renewable Energies sectors