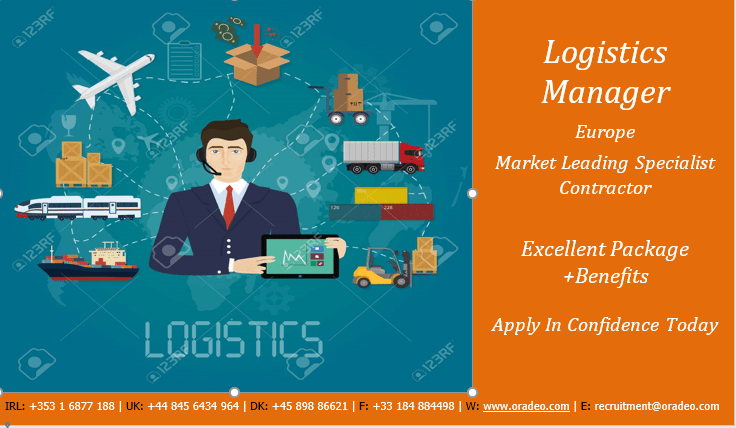 Logistics Manager Holland.
Logistics Manager | Holland
International market leading Construction Company with significant annual turnover
Excellent package with scope for further career development
Large prestigious projects; Data Centres, Pharmaceutical Facilities, Industrial developments etc.
Oradeo Recruitment is currently recruiting a Logistics Manager on a permanent basis to work on an exciting project in Holland with a Market Leading Contractor.
Working in conjunction with the Logistics Coordinator, you will be responsible for all aspects of the stores management, development and optimisation of site logistics solutions to meet the needs of the project, supervision & on boarding of working crews etc. The successful candidate will be required to manage the movement of people, goods and equipment at the construction site and control site facilities management. They must be a self- starter with the initiative and skills to manage his/her workload to meet necessary deadlines. Excellent time management, prioritising and communications skills are essential.
Logistics Manager Responsibilities:
Coordinate and Supervise installation which is being installed by subcontractors
Ensure the adherence to safety and quality standards
Ensure project meets programme deadlines with deliveries
Record variations and deliveries
Complete material requisitions, if required
Attend site meetings
Liaise and coordinate with other contractors on site
Maintain good working relationship between main contractor, client and subcontractors
Any ad hoc duties required for the successful completion of the project
Maintain site diary
Manage plant and machinery movement
Deliveries scheduled and tracked.
Monitor and follow up on Material orders and receipt verification
Plant and Hire management
Necessary Requirements:
A trade background with a third level qualification or relevant experience
Proven record of co-ordinating and managing large projects
A minimum of 3 years as a Logistics Manager
Excellent communication skills
Ability to work well under pressure and within a strict deadline environment
Ability to drive a large scale project
A construction or engineering background
For more information about this Logistics Manager opportunity or other Logistics Manager / Coordinator roles, contact Eavan McCallig confidentially on +353 1 687 7188/+44 845 643 4964 or apply in confidence.
About Oradeo- Oradeo Recruitment are specialists in the construction & engineering sector. We are a leading service provider in Ireland, UK and Europe for professional recruitment services (Logistics Manager, Logistics Coordinator, Supply Chain Coordinator, Supply Chain Manager, Labour Manager, Site Supervisor, Site Foreman, Site Manager, Transport Manager etc.) and the provision of managed labour in Construction & Civil Engineering, Oil & Gas, Mechanical & Electrical, Warehousing and Logistics and Industry