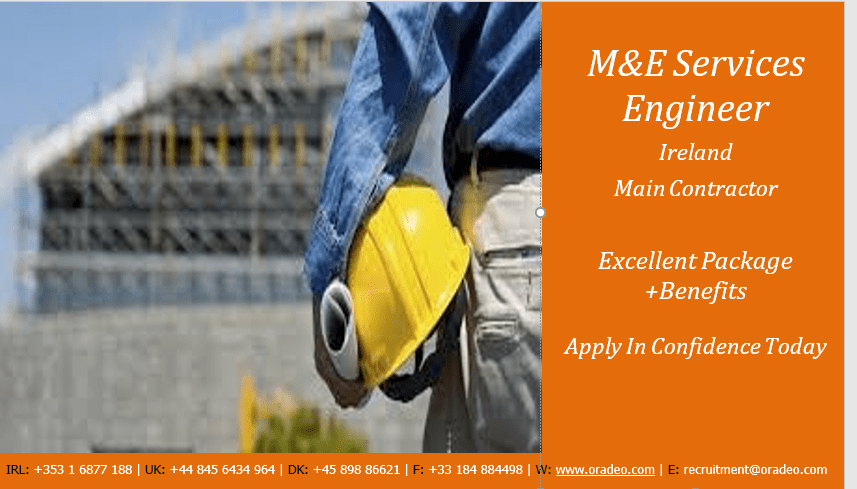 M&E Building Services Engineer (EMC).
M&E Building Services Engineer
Oradeo recruitment is currently recruiting for a M&E Building Services Engineer to work with a top tier contractor in Leinster on a permanent basis. The successful candidate will be assisting the Project Manager and provide technical support to the construction team.
This is a fantastic opportunity to work on large scale projects such as Data Centre's and Pharmaceutical
Duties & Responsibilities:
Assist with the preparation of reports and front end studies including capital cost estimates, project schedules, material take off's and out to tender schedules.
Assist with the preparation of technical and contract documentation for issue and analysing returned tenders.
Prepare & keep up to date the delivery schedule to control deliveries
Seek to clarify queries with the Design team through the request for information (RFI) system
Prepare programs using MS project.
Monitor progress against the program and issue progress reports.
Produce look ahead programs to assist production.
Prepare method statements and risk assessments (with construction team) for production activities
Maintain a register of contract variations.
Prepare test packs for recording the completion of systems.
Carry out Quality Control through inspections and snagging
Carry out document control, recording & transmitting information
Assisting projects with financial control of contracts during construction stage.
Liaise and co-ordinate with clients other members of the design team and contractors on technical and commercial issues.
Necessary Requirements:
Degree in Mechanical/Electrical or Building Services Engineering.
Minimum of 3 – 4 years' experience
Have general IT skills, knowledge of AutoCAD and Microsoft Office packages would be a distinct advantage.
Strong and effective communication and interpersonal skills.
Analytical thinker with demonstrated problem solving skills
Previous people management experience required.
Ability to work in a team or on own initiative
Ability to perform multiple tasks at a high level of quality
Ability to work well under pressure and within a strict deadline environment
Enthusiastic and Hardworking
Candidates must have availability to travel when required
For more information about this role or others, contact Eavan McCallig at Oradeo Recruitment confidentially on +353 1 687 7188 or apply in confidence.
About Oradeo- Oradeo Recruitment are specialists in the construction & engineering sector. We are a leading service provider in Ireland, UK and Europe for professional recruitment services (Health & Safety Officers, Health & Safety Coordinators, Health & Safety Managers, Contracts Managers, Commercial Manager, Site Engineer, Senior Engineer, CSA Project Managers, Mechanical Project Managers, Electrical Project Managers, Document Control/Site Administrators, Health and Safety etc.)