M&E Project Manager Europe (EMC)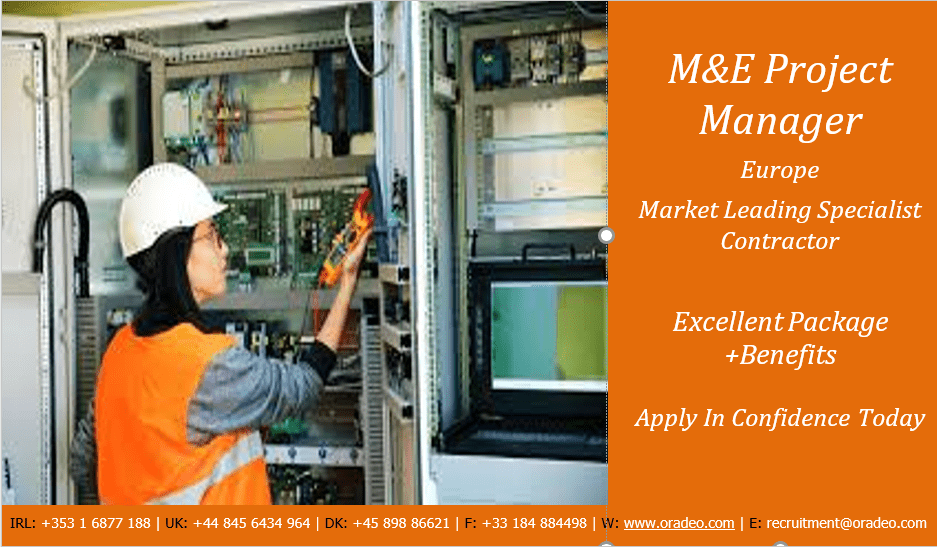 MEP Manager – Europe
Oradeo recruitment is currently recruiting for an MEP Manager to work with a market leading Mechanical, Electrical & Instrumentation contractor to be based in Europe on a permanent basis working on a large and prestigious Data Centre project. The successful candidate will be assisting the Project Manager and provide technical support to the construction team.
Duties & Responsibilities:
Liaising with key Project Stakeholders to deliver all aspects of assigned projects
Develop Project Execution strategies
Develop site logistics (demobilisation / mobilisation) plans
Develop and implement Project Schedules in accordance with key milestones, co-ordinating with all trades and CSA works
Develop and Track Project Labour Histograms including weekly project indicators
Develop and implement Project costs and budget plans
Review, sign-off and implement Project Quality plans and procedures
Review, sign-off and implement Project EHS Management plan
Management and motivation of Project construction and Engineering teams
Develop and agree submission and approvals process with client / design consultants
Develop and monitor material procurement schedules in accordance with schedule requirements
Involvement in the selection and appointment of Project Sub-contractors and Supply chain in conjunction with Commercial & Procurement departments
Chair weekly internal team, supplier and sub-contractor meetings to co-ordinate and ensure project performance
Ensure Project cost / revenue control and report performance and issue weekly reports on same
Attendance at client / project management meetings
Liaison with Sub-contractor and supplier senior management at steering group level to avoid project roadblocks
Ongoing liaison with Client Design teams and building contractor teams to ensure project performance
Develop and implement test and commissioning procedures
Prompt Project close-out and delivery of key documentation (O&M's, QA close-out, etc).
Agreement of project commercial close-out (Internal and External Final accounts)
All other duties associated with the role
Necessary Requirements:
Ideally 5 – 10 years' experience in delivery of large scale projects in ICT infrastructure Installations and Management
Ability to demonstrate building strong working relationships & stakeholder
management
Excellent Analytical and problem-solving skills
High level of accuracy and attention to detail
Good oral & written communication skills
This is an excellent opportunity for a self-starter, highly motivated individual, within a dynamic, ambitious and market leading company. An excellent remuneration package will be available to the right candidate. Suitable candidates should forward across an updated CV in confidence for the attention of Eavan McCallig +353 1 6877188. For further information, please see our website.