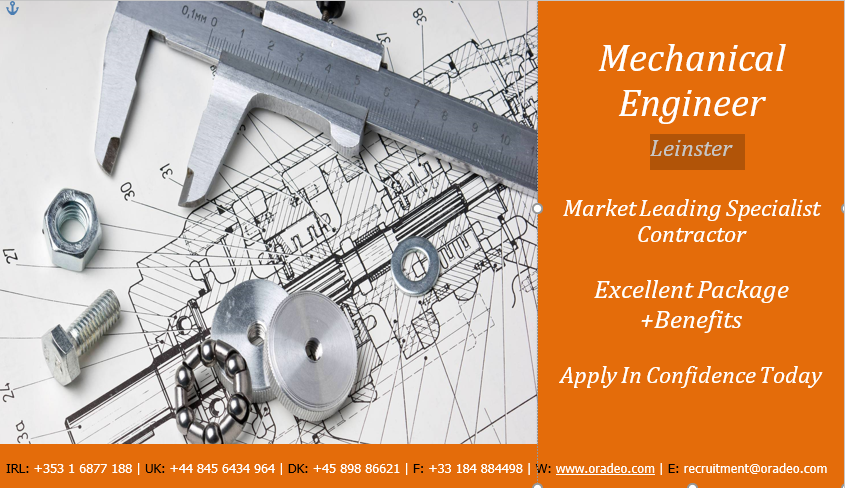 Mechanical Engineers Ireland/Europe (EMC).
Mechanical Engineers Required All Levels | West Dublin
Large international market leading main contractor
Excellent package and career development prospects
Large prestigious projects
Oradeo recruitment is currently recruiting for a Mechanical Engineer to work with a market leading Mechanical, Electrical & Instrumentation contractor in West Dublin on a permanent basis working on a prestigious project.
Duties and Responsibilities:
To support the engineering requirements through managing & liaising with Key Project Stakeholders (Client design team, Main contractor, Suppliers, Sub-contractors, etc.).
Familiarisation of Design/IFC specifications and drawings to fully understand the scope of the Project works.
Overseeing the Co-ordination process to transform design information into full installation drawings by BIM personnel ensuring spec compliance and as per schedule priority.
Assessment of Sub-contract and Supplier Tender returns for Technical compliance with design intent specifications.
Familiarisation with the Project schedule and ensuring Engineering activities do not impact on same (e.g. Procurement, etc.).
Management of the technical submittal, approvals
Management of the material procurement utilising Engineering Materials Report (EMR) by producing material take offs identifying the lead in periods and field need rates
Ensure Works are installed in accordance with Project specifications and to the Project QA plan (for e.g. pre-agreed benchmarking).
Management of Sub-contractors and ensuring adequate information flow to ensure works progress in line with the Project Schedule and Weekly Meeting logged.
Evaluate and promote the use of new engineering practices and processes to enhance delivery time of the project.
Preparation and agreeing project completion criteria and close out documents.
Preparing Sub-contract and Supplier Tender Packages in conjunction with Project QS.
Manage the Work packs process from development, implementation and handover
Manage BIM priorities i.e. isometrics generation and release
Necessary Requirements:
3 – 7 years' experience working with a recognised Mechanical/Electrical contractor in process mechanical / pipework
Excellent organizational and project planning skills
Ability to work as part of a team
Excellent negotiation, problem solving and decision making skills
Proficient in use of Navisworks and Database systems related to Engineering functions
Familiar with Project /Primavera planning software and CAD/BIM process
Ability to manage workload and prioritise
Excellent communication skills
Ability to work on own initiative
Knowledge of modularisation ( Off-Site fabrication)
For more information about this Mechanical Engineer position or other opportunities, contact Eavan McCallig at Oradeo Recruitment confidentially on +353 1 687 7188/ +44 845 643 4964/ +45 8988 6621 or apply in confidence.
About Oradeo – Oradeo Recruitment are specialists in the construction & engineering sector. We are a leading service provider in Ireland, UK and Europe for professional recruitment services and the provision of managed labour in Construction & Civil Engineering, Oil & Gas, Mechanical & Electrical, Warehousing and Logistics and Industry