Mechanical Project Manager | Dublin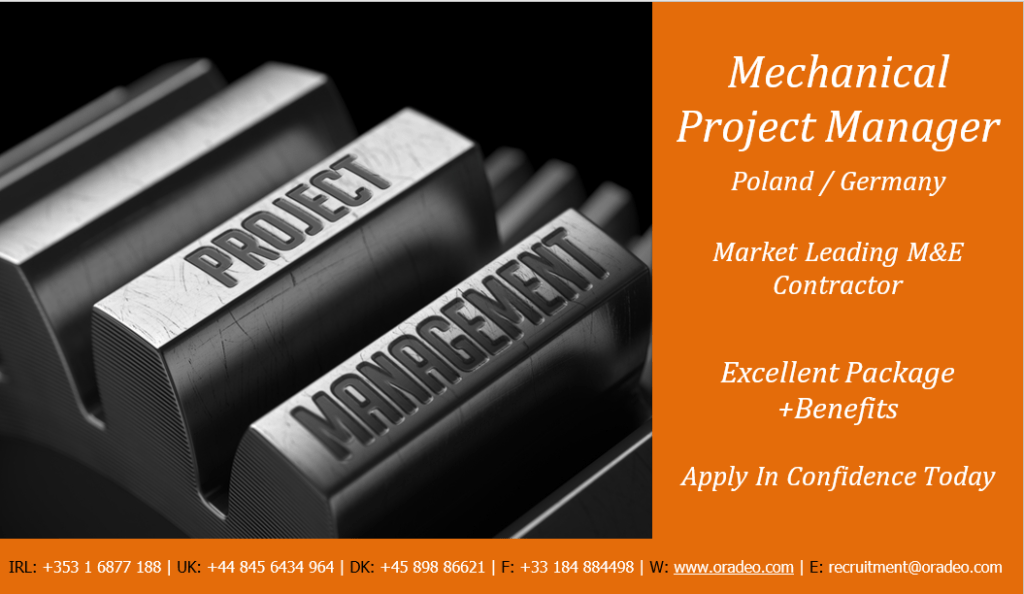 Mechanical Project Manager | Dublin | Top M&E Contractor
Market leading international M&E Contractor with significant annual turnover
Excellent package on offer with clear scope for career development
Large prestigious projects for many well-known blue-chip clients in Europe area's within Data Centres
Oradeo Recruitment invites applications for the role of Mechanical Project Manager with strong IT skills for a data centre project Dublin working for a large international Mechanical & Electrical Contractor. This is an excellent opportunity for individuals who are looking for career progression and development.
Oradeo Recruitment's client is an International Company which has gained significant experience across a wide section of construction sectors including Commercial, Industrial, Data Centre, Pharmaceutical or Power Generation on both Public and Private tenders/projects.
Duties and Responsibilities:
The Mechanical Project Manager will coordinate Mechanical design, work with consultants and subcontractors
Supervise the progress of work
Prepare the project programme, including the delivery strategy and ensure project milestones are achieved.
Ensure smooth and timely flow of information between all parties to the contract.
As a Mechanical Project Manager you will endeavour to identify and predict potential bottlenecks and delays and action remedies
Keeping the project stakeholders informed of progress, cost and any other relevant issues.
Review project scope, and manage the budget and schedule.
Perform Cost Analysis where required
Participate in design reviews.
Manage safety and quality aspects of the project in accordance with company procedures
Agree valuations and final accounts with contractors and sub-contractors.
Review issues to drive continuous improvement
Necessary skills and requirements:
Minimum 5 years of experience in a Mechanical Project Managerrole
3rd level Qualification in Mechanical Engineering – or strong trades background
A strong technical background in contracting is essential for this role
A proven track record of Electrical/Mechanical fundamentals is essential.
In addition to having a strong technical background in contracting, the Mechanical Project Manager ideally will possess experience on projects in excess of €30/£25 million in the Pharmaceutical, Data Centre, Industrial or Commercial sector
Strong operational skills and an attention to detail, and experience of the design build process
Good presentation and general management skills
Strong written communication abilities, and the ability to negotiate a strong commercial position for the company are also essential
Previous experience in managing a project of circa €20m
Strong IT skills, minimum Word, Excel, AutoCAD, MS Project
For more information about this Mechanical Project Manager role or other Project Manager roles, contact Declan Duggan at Oradeo Recruitment confidentially on +353 1 687 7188/ +44 845 643 4964 or apply in confidence.
About Oradeo – Oradeo Recruitment are specialists in the construction & engineering sector. We are a leading service provider in Ireland, UK and Europe for professional recruitment services and the provision of managed labour in Construction & Civil Engineering, Data centres, Mechanical & Electrical, Life Sciences and Renewable Energies sectors