Mechanical Supervisor Amsterdam (EMC)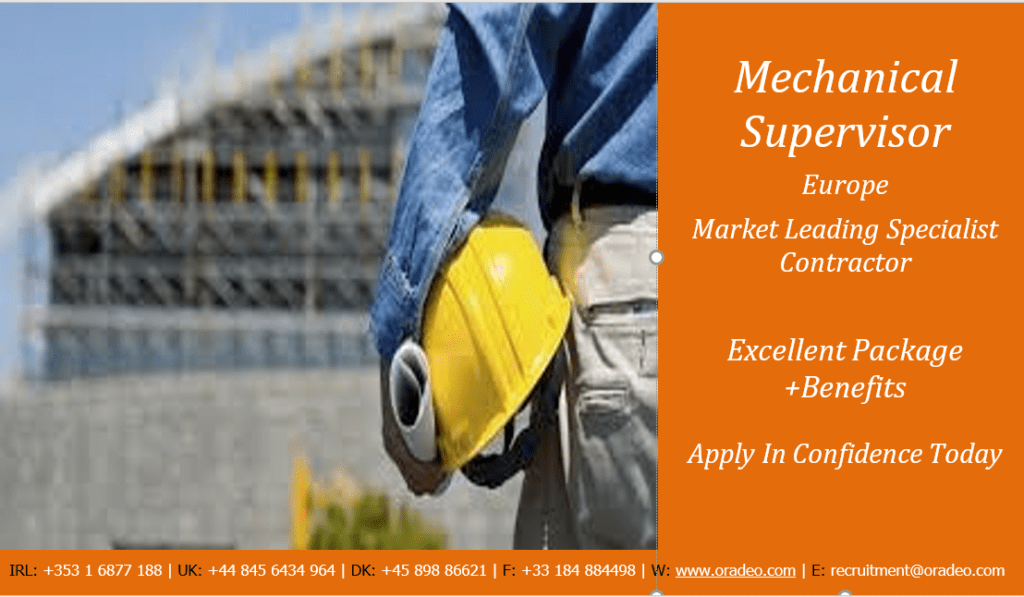 Mechanical Supervisor – Amsterdam
Large international market leading main contractor
Excellent package and career development prospects
Large prestigious projects
Oradeo recruitment is currently recruiting for a Mechanical Supervisor to work with a market leading Mechanical, Electrical & Instrumentation contractor in Amsterdam on a permanent basis working on a prestigious project.
Roles and Responsibilities:
Management of Site Safety in conjunction with the Company Safety Advisor. This will include the setup, management of and closing out of the safety file as part of the Management team
Management of Site QA in conjunction with the Mechanical Package manager including set up, management and close out of file
Familiarity with and management of Project Schedule in conjunction with other trades, Package Leads, consulting Engineer and Client requirements
Assist with the management of all costs associated with your package including:
Company Mechanical Team
Sub-contractors
Material deliveries and goods receipting
Plant and Equipment
Variations
Valuations
Management of all day to day on site operations
Management of sub-contractor activities including tracking progress against schedule and manpower levels. Ensure that there is a weekly minuted meeting with sub-contractor
Management of the Company "In Progress" snagging system ensuring that you return weekly punch lists where applicable.
Issue direct labour hours and sub-contractor hours to time administrator for tracking centrally
Attendance at Site Meetings, Internal Project Reviews, Engineering Reviews, Planning and Co-ordination Meetings and Handover Meetings
Close out of all project items including O & M Manuals, Punch List, Safety File, QA File, – all with the support of the Mechanical package manager
Implement a weekly look ahead ensuring co-ordination with other trades
Issue internal weekly progress report. This will highlight progress percentage complete based on WBS codes and any concerns. It should also highlight any risk elements within the control of The Company, e.g. late deliveries.
Schedule material deliveries to correspond with the project schedule. Track deliveries in particular.
Maintain a weekly project photographic diary
All other duties associated with this role
Essential:
Ventilation and AHU Experience is essential
Pipework experience
For more information about this Mechanical Supervisor position or other opportunities, contact Eavan McCallig at Oradeo Recruitment confidentially on +353 1 687 7188/ +44 845 643 4964/ +45 8988 6621 or apply in confidence.
About Oradeo – Oradeo Recruitment are specialists in the construction & engineering sector. We are a leading service provider in Ireland, UK and Europe for professional recruitment services and the provision of managed labour in Construction & Civil Engineering, Oil & Gas, Mechanical & Electrical, Warehousing and Logistics and Industry