Method Development and Validation Analyst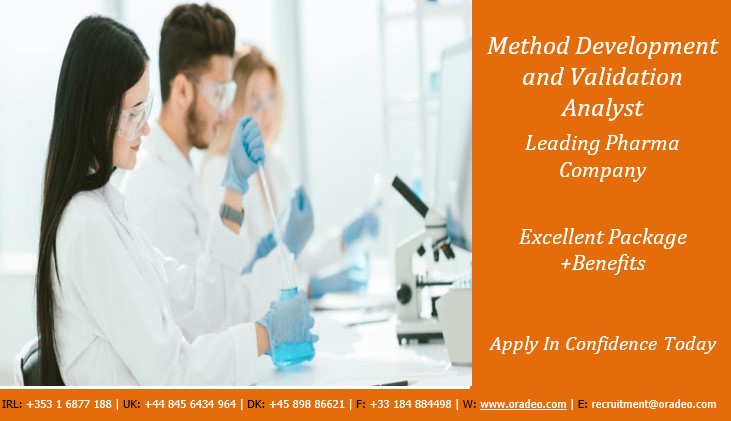 Method Development and Validation Analysts | Mayo
Leading Pharma Company in the West of Ireland
Excellent career progression opportunities along with a generous package
Oradeo Recruitment is presently seeking interest for the role of Method Development and Validation Analysts for our clients Analytical Department based in Mayo. This role shall report to the Method Development & Validation Supervisor.
Main Duties and Responsibilities:
Carry out analytical methods i.e. chromatographic, UV, CE-SDS, icIEF and/or ELISA as part of method development, validation or troubleshooting.
Work with Projects Leader to provide results/outcome of the testing.
Assist in generating SOPs.
Sourcing, purchasing and stocking consumables, standards and reagents required for testing.
Searching scientific literature.
Receipt and processing of test samples in LIMS
Carry out data calculations, basic statistics and trending.
Provide additional information at the clients request as required.
Assist in internal, regulatory and client visits/audits and respond to findings.
Safe and compliant disposal of all laboratory generated waste.

The following are minimum requirements related to the Method Development and Validation Analyst position:
1-2 years' relevant experience in Scientific Research preferably within a GMP regulated environment (EMEA/FDA) within the Pharmaceutical, Medical Device, CRO Industry.
Experience in method development and validation essential.
Minimum B.Sc. in a relevant science discipline (e.g. Analytical Chemistry)
Experience in analytical techniques/immunoassays desirable.
For more information about this Analyst position or other opportunities, contact Siobhan Brennan at Oradeo Recruitment confidentially on +353 1 687 7188 or apply in confidence.
About Oradeo – Oradeo Recruitment are specialists in the life sciences, pharmaceutical, construction & engineering sector. We are a leading service provider in Ireland, UK and Europe for professional recruitment services and the provision of managed labour in Construction & Civil Engineering, Data centres, Mechanical & Electrical, Life Sciences and Renewable Energies sectors