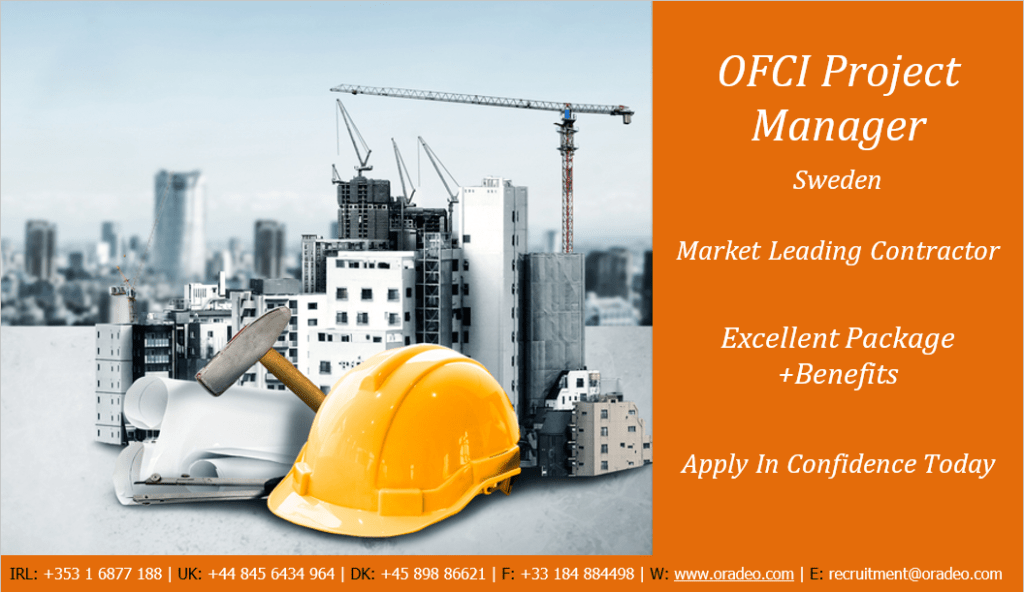 OFCI Project Manager | Sweden
OFCI Project Manager | Sweden
One of Europe's top Tier 1 Main Contractors with significant annual turnover.
Excellent career progression opportunities along with a generous package.
Exposure to large, interesting and prestigious projects.
Oradeo Recruitment is presently seeking interest for an experienced OFCI Project Manager with solid contractor experience to join one of Europe's Top Tier 1 Main Contractors initially based in Sweden. As an OFCI Project Manager, you will gain exposure to prestigious projects across Europe on large, prestigious pharmaceutical, industrial, commercial and data centre projects.
The OFCI Project Manager will be expected to be a very detailed individual with previous experience working as an OFCI Project Manager/Engineer on Data Centre projects and/or other complex technical projects.
OFCI Project Manager Responsibilities
Facilitate problem solving, as may arise, between structural, architectural, mechanical, electrical and CSA subcontractors during construction
Develop and manage job progress schedules and ensure that the OFCI equipment's required-on job (ROJ) dates align with master schedule's construction activities
Development and maintenance of Project OFCI procurement log including tracking equipment deliveries, scheduling, communicating and tracking of factory witness tests
Prepare, review, and distribute OFCI RFIs, submittals, and other contract documents in a timely manner; ensure compliance with the contract documents
Maintain and distribute OFCI job files (RFIs, specifications, addenda, construction documents etc.) as the project requires, to align all vendor equipment
Monitor the delivery of all OFCI equipment items and their related loose-shipped materials ensuring a complete delivery, and recording and reporting any shipping damages, defects, or missing items
Coordinate all mechanical and electrical subcontractor activity with respect to receipt of OCFI equipment including but not limited to recording and reporting any shipping damages, defects, or missing items
Ensure that all equipment receiving information is logged and reported in a timely manner to facilitate SOE's vendor payment milestones are met
Develop and manage the shop drawing review matrix and rolling completion log to maintain vendor commitment dates
Hold site OFCI coordination meeting with owner, mechanical and electrical subcontractors to address and monitor all OFCI issues and changes until resolution
Necessary Requirements:
Architectural construction background. Large green field construction would also be an advantage.
Experience building Data Centres or other technically intensive facilities
A Bachelors' Degree in Engineering or a related field is considered beneficial for the role
Proficiency with a variety of related computer software applications including MS Office (Excel, Outlook, Project, Word) is required. Experience and proficiency with online document management applications is a strong plus
Excellent communication and organisational skills
For more information about this OFCI Project Manager role or other Project Manager positions, contact Declan Duggan at Oradeo Recruitment confidentially on +353 1 687 7188 /+44 845 643 4964 or apply in confidence.
About Oradeo – Oradeo Recruitment are specialists in the construction & engineering sector. We are a leading service provider in Ireland, UK and Europe for professional recruitment services and the provision of managed labour in Construction & Civil Engineering, Data centres, Mechanical & Electrical, Life Sciences and Renewable Energies sectors