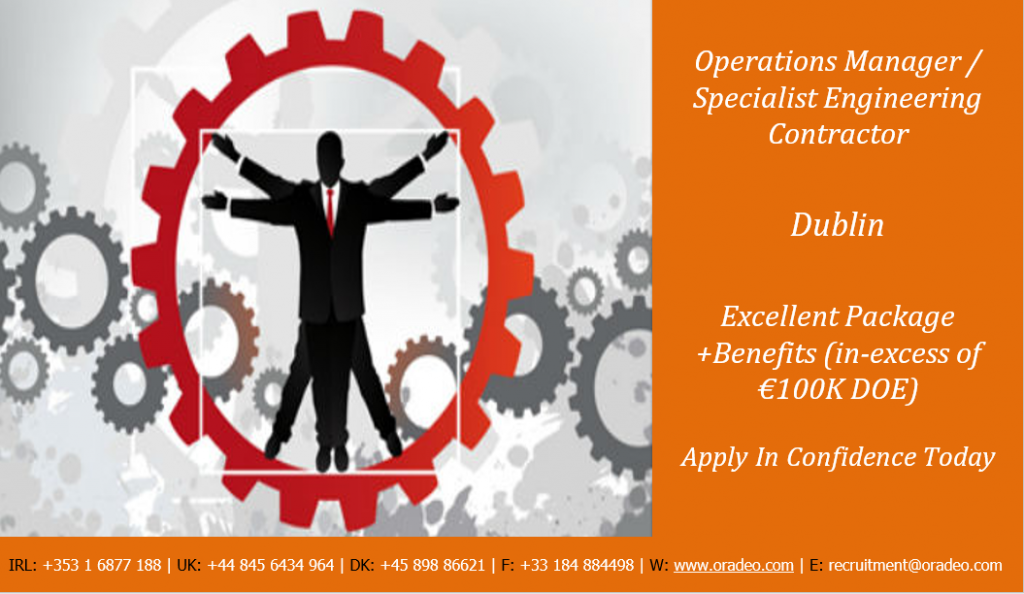 Operations Manager | Dublin
Operations Manager | Specialist Engineering Contractor | Leinster
One of the UK/Ireland's largest specialist contractors
Excellent package and scope for career progression
Established list of existing clients across Ireland and the UK with over 90% repeat business
Prestigious Projects across multiple sectors
Operations Manager to join a market leading international specialist contractor based in Dublin covering both the Irish and UK markets. The successful individual will have the opportunity to work on a multitude of exciting, complex and large projects surrounding both Ireland & the UK.
Oradeo Recruitment's client is one of the top specialist construction companies in Ireland & the UK who operate across a broad spectrum of sectors including, Retail, Civil, Infrastructure, Commercial, Leisure, Residential and more. Our client boasts an impressive array of international organisations within the architectural, consulting and contracting realm.
The Successful Operations Manager will be tasked with leading and managing the successful delivery of a number of projects within Ireland and the UK in addition to ensuring the operational performance of the organisation as a whole
Operations Manager Responsibilities:
Proposing suitable changes to design to improve saving, ease construction programme, enhance specification and quality on completion
Preparing and complete commercial monitor reconciliation on a monthly basis to highlight areas of overspend or savings thus appropriate action can be take
Ensuring in receipt of and fully aware of all information at Estimating/Surveying handover
The Development of Project Commercial Plans and ensuring buy in from the project team and management
Provision of advice and feedback as projects progress, to senior management
Plan, maintain and control the financial administration of all construction work to obtain and maintain maximum cost effectiveness
Understand and implement the requirements of the company Commercial Management
Procedure
The Operations Manager will ensure effective procurement and supply chain management
Be very commercially aware, ensuring that an efficient and effective change control system is in place
Development of recovery strategies where necessary
Implementation of effective means of controlling contractual documentation on the project ensuring that the team prepare and maintain programmes and related records
Management of all commercial/contractual related aspects
Actively participate in site project meeting and ensure that all commercial matters are discussed and problems investigated and resolved
The Operations Manager must be able to function autonomously and jointly with senior management. They must routinely make management decisions pertaining to project issues throughout their lifecycle
Must function effectively as liaison between the company and external Client executives so as to protect the Company and the specific project, to resolve issues or concerns in conjunction with the Board of Directors
Instruct, coach and direct the project staff with respect to construction, contractual, and regulatory requirements with responsibility for assigned work
Manage day to day operational duties
Demonstrates continuous efforts to improve operations, decrease turnaround times, streamline work processes, and work cooperatively and jointly to provide quality seamless customer service
Develop and deliver progress reports, analyse results and troubleshoot problem areas
Build, grow and develop business relationships for the success of the project
Necessary Requirements:
3rd level qualification in Engineering/Construction
Suitable candidate should have 10+ years' experience with recognized main contractors on large complex project valued at £/€40+ million operating in a similar role ie Senior Contracts Manager/Operations Manager
Have a proven track record of seeing projects through to their successful completion
Strong customers focus skills, with the ability to build relationships and networks with strategic stakeholders
Have a sound knowledge of current construction techniques, build ability and value engineering concepts
Able to demonstrate excellent communication and presentation skills
Able to demonstrate financial, commercial and business development acumen
Analytical thinker with demonstrated problem solving skills
Previous people management experience required.
Ability to perform multiple tasks at a high level of quality
Ability to work well under pressure and within a strict deadline environment
Must be technically competent with the ability to set and track project milestones and deliverables
For more information about this Operations Manager role or other Operations Manager/Senior Management opportunities, contact Kevin Nolan at Oradeo Recruitment confidentially on +353 1 687 7188/+44 845 643 4964 or apply in confidence.
About Oradeo– Oradeo Recruitment are specialists in the construction & engineering sector. We are a leading service provider in Ireland, UK, Europe and Middle East for professional recruitment services (Executive search/Directors, Operations Manager, Senior Quantity Surveyors, Quantity Surveyors, Contract Surveyors, Contracts Managers/Project Director, Technical Director, Commercial Manager, Site Engineer, Senior Engineer, Project Managers, Design Manager, Technical Manager) and the provision of managed labour in Construction & Civil Engineering, Oil & Gas, Mechanical & Electrical, Warehousing and Logistics and Industry