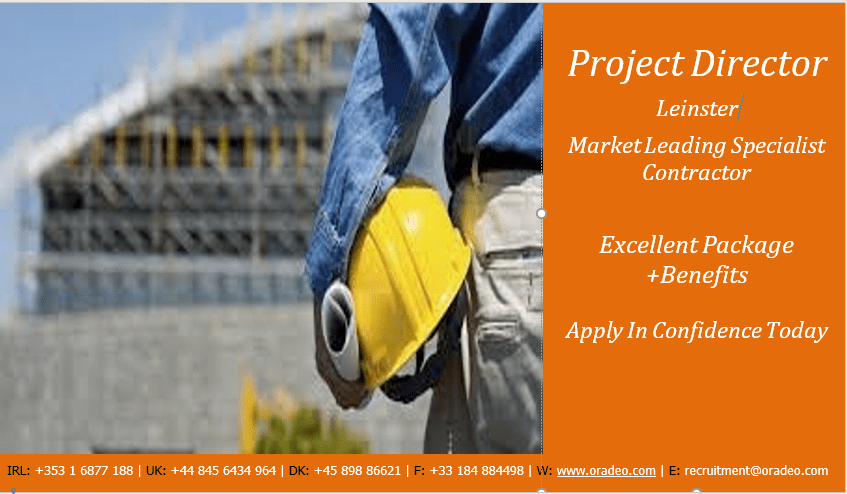 Experienced Project Director | Leinster (EMC)
Project Director | Leinster
Global market leading construction company
Excellent package & career development prospects
Large Commercial Projects
Oradeo Recruitment is currently recruiting for an experienced Project Director to work with a market leading international construction company to be based in Leinster working initially on large, confidential and highly sought after commercial Projects.
As a Project Director, you will be given the opportunity to further develop your career with this well-established organisation into a senior management function. The successful candidate will be responsible for leading and managing the project on a day to day basis.
Duties & Responsibilities:
The Project Director must be able to function autonomously and jointly with the Senior Project Manager.
He/She must routinely make management decisions pertaining to project issues with minimal supervision throughout the life of the project
Must be able to demonstrate strong Commercial awareness and Cost Control ability with a proven track record in the area of construction planning
Must be technically competent with the ability to set and track project milestones and deliverables
Must function effectively as liaison between the company and external Client executives so as to protect the Company and the specific project, to resolve issues or concerns in conjunction with the senior management
Instruct, coach and direct the project staff with respect to construction, contractual, and regulatory requirements with responsibility for assigned work
Responsibility for the delivery of the job on time, within specification and on budget
The Project Director will ensure all personnel on site conduct their duties to the highest standards
Manage day to day operational duties
Demonstrates continuous efforts to improve operations, decrease turnaround times, streamline work processes, and work cooperatively and jointly to provide quality seamless customer service
Develop and deliver progress reports, analyse results and troubleshoot problem areas
Build, grow and develop business relationships for the success of the project
Provide feedback and record information from the project for 'lessons learnt seminars' and for continuous staff development.
Necessary Requirements:
An Engineering / Construction Management / Project Management Degree required or where appropriate relevant experience
Minimum 8+ years+ commercial / industrial construction experience, preferably in a Main Contractor entity
Minimum 5+ years+ management experience required – preferably at Senior Level
Thorough knowledge of computer and database applications such as Windows, Word, Excel, Access, PowerPoint, Microsoft Project/Power project etc.
Thorough understanding of the construction industry and broad understanding of regulatory requirements
Excellent ability to analyse and interpret contractual documents
Proven excellent analytical and organisational skills
Superior oral and written communication and interpersonal and negotiation skills required
Flexibility and ability to adapt to a changing work environment are essential.
For more information about this role or others, contact Eavan McCallig at Oradeo Recruitment confidentially on +353 1 687 7188 / +44 845 643 4964 or apply in confidence.
About Oradeo – Oradeo Recruitment are specialists in the construction & engineering sector. We are a leading service provider in Ireland, UK and Europe for professional recruitment services and the provision of managed labour in Construction & Civil Engineering, Oil & Gas, Mechanical & Electrical, Warehousing and Logistics and Industry