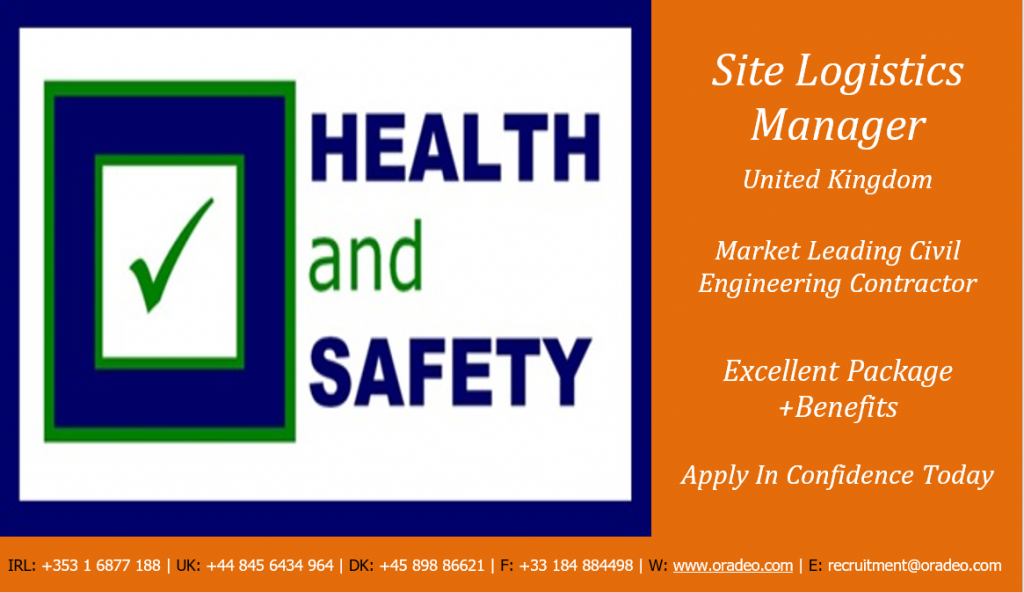 Project Health and Safety Advisor – South East UK
Project Safety Advisor | Civil Engineering
Large Civil Engineering Contractor.
Excellent opportunity for career growth and development.
Accommodation, Flights, subsistence, etc.
Health and Safety Advisor- Oradeo is currently recruiting a Health and Safety Advisor to join a large Civil Engineering contractor. A permanent position with accommodation, flights and daily expenses provided, you will be joining a renowned Civil Contractor with a first class package. The Health and Safety Advisor will work on a range of projects across the UK. The Projects range between Windfarms, Cross country Pipelines and utilities projects.
As a Health and Safety Advisor you will:
Develop, monitor, implement and audit Health and Safety procedures/policies in business
Update and maintain Health and Safety procedures and the Organisation's Safety Statement in compliance with Regulatory requirements
Carry out risk assessments and ensure risks are reduced
Keep record of incidents and accidents and produce statistics for senior management
Keep up to date on new legislation and maintain a working knowledge of all Health and Safety Authority (HSA) legislation and any developments effecting the Industry
Provide Training; Induction, Refresher and Manual Handling Training as required
Represent the Company during outside Agency Audits/Inspections and liaise as required with the Health & Safety Authority
Co-Ordinate the Health and Safety committee for all sites and ensure regular monthly meetings
Improve the health and safety culture, through training and awareness campaigns
Deal with any ad-hoc duties that may arise
Necessary skills and requirements:
Minimum NEBOSH Construction or Third Level education in Health and Safety or related discipline is required.
A minimum of 5 years Health and Safety experience with a main contractors.
Experience on Civil Engineering Projects
For more information about this role or others, contact Liam Irwin at Oradeo Recruitment confidentially on +353 1 687 7188 or apply below.
About Oradeo– Oradeo Recruitment are specialists in the construction & engineering sector. We are a leading service provider in Ireland, UK, Europe and Middle East for professional recruitment services (Executive search/Directors, Senior Quantity Surveyors, Quantity Surveyors, Contract Surveyors, Contracts Managers/Project Director, Commercial Manager, Site Engineer, Senior Engineer and Project Managers). Oradeo also provide managed labour in Construction & Civil Engineering, Oil & Gas, Mechanical & Electrical, Warehousing and Logistics and Industry