QA/QC Manager Leinster or Europe (EMC).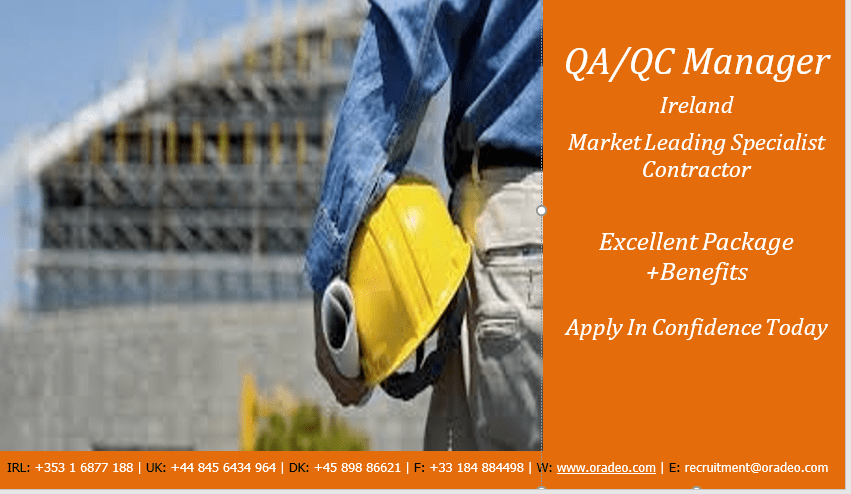 Quality Manager| Leinster
Top 20 Global Construction Company | Over €3 billion turnover!
Excellent Salary with plenty of generous benefits
Opportunity to develop a long standing career with no glass ceiling and scope for career progression
Large prestigious projects; pharmaceutical, data centre, industrial etc.
Oradeo Recruitment is presently seeking interest for an experienced Quality Manager with a strong Quality Management background to work on an array of industrial, pharmaceutical and data centre projects based in Leinster to provide support and compliance in Quality across the EMEA Region and Ireland.
This tier one organisation originates from central Europe and has grown into an internationally diversified firm operating on every continent on a number of prestigious clients within a number of key sectors including Advanced Technology Facilities, Life Science & Chemicals, High Tech Infrastructure and Cleanroom Technologies & Controlled Environments.
Duties & Responsibilities:
STRATEGIC MANAGEMENT
As part of the Regional Team, contribute to the development of the business overall strategy
Make a leading contribution to the implementation of the business strategy in a manner that is consistent with the aims and values of the organisation
LEADERSHIP & MANAGEMENT
Show consistent and clear leadership and management which seeks to inspire employees in the achievement of corporate, departmental, and individual objectives (SHEQ)
Play a key role in organisational culture and style in which employees are empowered and valued
Ensure the effective management of team members in accordance with policies and procedures
Develop the skills and knowledge of team members, maintain good working relationships and excellent communications.
MANAGING BUSINESS DELIVERY
Ensure by regular review/audit/inspection with project SHEQ/EHS/QA employees that the organisation's aims and values are embedded, clearly understood and the achievement against agreed personal objectives is monitored
Be responsible for the efficient use of resources and the development and training of team (line reports) members
Achieve continuous improvement in business delivery by adopting a performance management and customer focused approach to the leadership and management of staff.
Co-ordinate the preparation and delivery of the annual business plans, budgets and forecasts for areas of responsibility.
KEY TASKS
Quality Standards:
Ensure strategies are implemented to maintain agreed quality standards in the appropriate Business Areas
Ensure effective monitoring systems are in place to report compliance with agreed Quality Standards
Health & Safety:
Develop and maintain Health & Safety policies and corporate standards and systems to support continuous improvement of Health and Safety performance throughout the organisation and maintain OHSAS: 18001 certification (ISO450001)
Play a pivotal role in the roll out IFW
Environmental:
Develop and maintain Environmental policies and corporate standards and systems to support continuous improvement of Environmental performance throughout the organisation and maintain ISO: 14001 certification. Including working toward the guidelines set out in ISO26001:10
Operational Training
Work closely with the HR to establish and maintain appropriate competence and Quality standards within the organisation.
Other:
Deliver the business plan for all areas under the control of the Director of Health and Safety and Environment.
Ensure the structure, roles and responsibilities are appropriate for all areas under the control of the Director of Health and Safety, Environment and Quality.
Management of actual performance against approved budgets and forecasts relating to all areas under control of the Director of Health and Safety, Environment and Quality.
Requirements
The above list is not exhaustive and other duties maybe attached to the post from time to time. Variations may also occur to the duties and responsibilities without changing the general character of the post.
The following are standard responsibilities for all positions of Safety Health Environment, Quality;
Participate in any review / performance management process involving the identification of training needs for self and others.
Take appropriate responsibility to ensure the health and safety of self and others.
Undertake any other tasks and responsibilities appropriate to the level of the post.
For more information about this Quality Manager or other Manager positions, contact Eavan McCallig at Oradeo Recruitment confidentially on +353 1 687 7188/+44 845 643 4964 or apply in confidence.
About Oradeo – Oradeo Recruitment are specialists in the construction & engineering sector. We are a leading service provider in Ireland, UK and Europe for professional recruitment services (Project Director, Senior Contracts Manager, Contracts Manager, Senior Project Manager, Project Manager, Electrical Contracts Manager, Senior Electrical Project Manager, Electrical Project Manager, Senior Electrical Engineer, Electrical Engineer) and the provision of managed labour in Construction & Civil Engineering, Oil & Gas, Mechanical & Electrical, Warehousing and Logistics and Industry