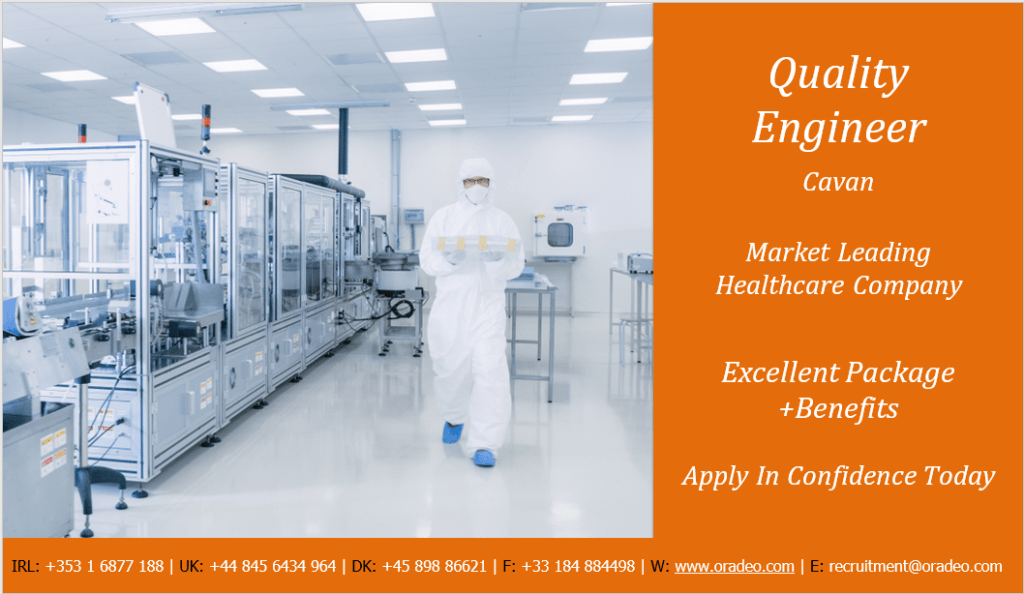 Quality Engineer | Cavan
Quality Engineer | Cavan
Leading Healthcare Company with a diverse range of healthcare products.
Excellent career progression opportunities along with a generous package.
Oradeo Recruitment is presently seeking interest for an experienced Quality Engineer who will be part of the QA Team reporting to the CAPA & Validation Manager and will be based in Co. Cavan.
Become a Quality Engineer with a Healthcare Company with a diverse range of healthcare products. This position comes with an excellent remuneration package and a clear path for career growth and development towards a Senior Engineer and beyond.
Quality Engineer Responsibilities:
Provide direction, documentation, execution and review for PoP / Unexpected events, QualEx metrics, Executive Management Review, Quality Management Review, Human Reliability Program (HRP).
Work closely with the CAPA and Validation Manager.
Provide leadership across a number of site functions including Quality Excellence, PoP / Unexpected events and HRP.
Lead quality-related projects within the value stream e.g. where significant process changes are required that originates from a customer complaint.
Demonstrates commitment to the Quality Policy (product safety and quality) through the daily execution of sound quality practices.
Develop and implement Value Improvement Projects.
Support cost improvement projects and non re-occurring expense activities e.g. capacity expansions and new product variations within the value stream from a quality perspective.
Provides Quality support for the transfer of new product into commercial Manufacturing.
Provides additional support to the Operations team when a new product is introduced to the value stream where required until the product has reached steady state.
Completion of targeted assessments for prevention reviews for new products introduced to the value stream.
Supports validation activities within the value stream including MVP's, MVR's, TMV's, OQ/PQ, PPQ and revalidation assessments.
Supports the approval of supplier change notifications.
Supports audits for the value stream from external regulatory agencies and customers and leads preparation activities in advance of such audits.
Updates Quality procedures and specifications as required through the change plan process.
Provides root cause analysis & problem-solving guidance.
Necessary skills and requirements:
Bachelor's Degree in Pharmaceutical Science, Food Science, Dairy Science or related Engineering qualifications.
Food Microbiology or Food Chemistry would be desirable.
It is an advantage to have knowledge on HRP and CAPA.
Food Engineering, thermal heat processing and fluid flow are advantageous.
Knowledge of nutritional industry preferred.
Project Management Skills or experience with Project Management is essential.
Excellent interpersonal skills and very good computer literacy.
Ability to work as an effective member of a high performance team.
Excellent communication and interpersonal skills and have demonstrated the ability to lead in a previous role.
Good organization and investigation skills are required.
Excellent "hands-on" technical skills.
Excellent communication skills.
For more information about this Quality Engineer position or other Engineering opportunities, contact Declan Duggan at Oradeo Recruitment confidentially on +353 1 687 7188 / +44 845 643 4964 or apply in confidence.
About Oradeo – Oradeo Recruitment are specialists in the construction & engineering sector. We are a leading service provider in Ireland, UK and Europe for professional recruitment services and the provision of managed labour in Construction & Civil Engineering, Data centres, Mechanical & Electrical, Life Sciences and Renewable Energies sectors