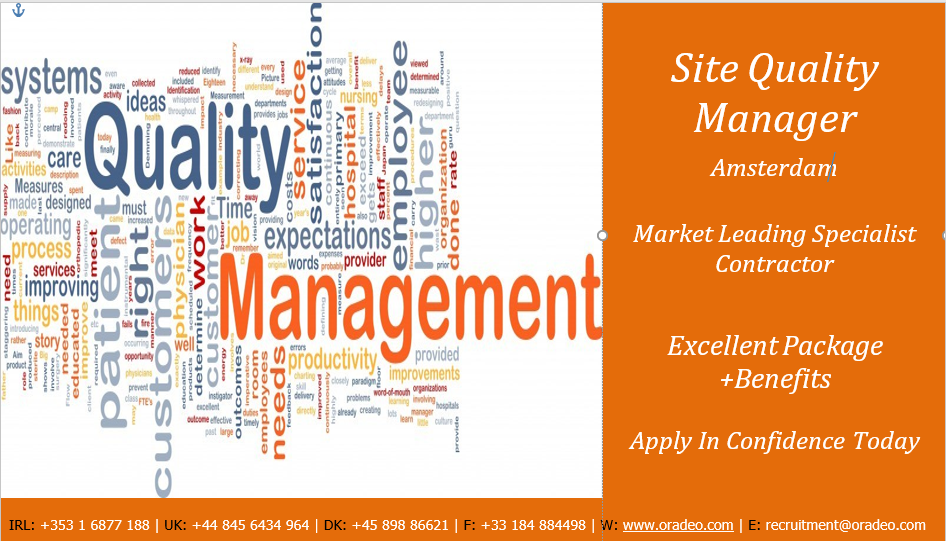 Quality Manager | Germany (EMC).
One of Ireland's Top Construction Companies with significant annual turnover.
Excellent career progression opportunities along with a generous package.
Exposure to large, interesting and prestigious projects.
Oradeo Recruitment is presently seeking interest for an experienced Quality Manager ideally with solid main contractor / specialist subcontractor experience to join one of Ireland's Top Construction Companies capable of working across a number of European projects.
Become a Quality Manager with a building contractor with an outstanding reputation in the market on large-scale construction projects. This position would come with an excellent remuneration package and a clear path for career growth and development towards Senior Engineer, Project Management and beyond.
QA/QC Engineer Responsibilities:
Engaging in areas of assessment of quality assurance, quality control and staff performance
Analysis of key quality data
Responsibility of internal and external audits
Satisfying clients project specific requirements
Analysis and resolution of all instances of non-conforming materials and practices
Reviewing and analysis of test data to verify compliance, detect trends, and identify areas of improvement
Generation and maintenance of project programs
Liaise with PMs and trades to discuss quality issues.
Oversee Snagging.
Liaise with Engineers on technical issues affecting quality.
Ensure that items raised in quality audits are completed and followed up.
Document all Quality Control Audits.
Necessary skills and requirements:
5-10 years' experience at Senior Engineer level
Capable of preparing QA/QC plans, ITPs & Site QA/QC Record/Check Sheets.
Implement standards and monitor/report/audit.
For more information about this role QA/QC Engineer position or other Engineer opportunities, contact Eavan McCallig confidentially on +353 1 687 7188/+44 845 643 4964 or apply in confidence.
About Oradeo- Oradeo Recruitment are specialists in the construction & engineering sector. We are a leading service provider in Ireland, UK and Europe for professional recruitment services (Site Engineer, Setting out Engineer, Senior Engineer, Civil Engineer, Structural Engineer, Senior Site Engineer, Project Engineer, Trainee Engineer, Junior Engineer etc.) provided to many market leading Main Contractors, Specialist Contractors, Subcontractors, M&E Contractors, Client Side Organisations, Developers, Architecture practises, Construction Consultancies etc. Oradeo also specialises in the provision of managed labour in Construction & Civil Engineering, Oil & Gas, Mechanical & Electrical, Warehousing and Logistics and Industry.