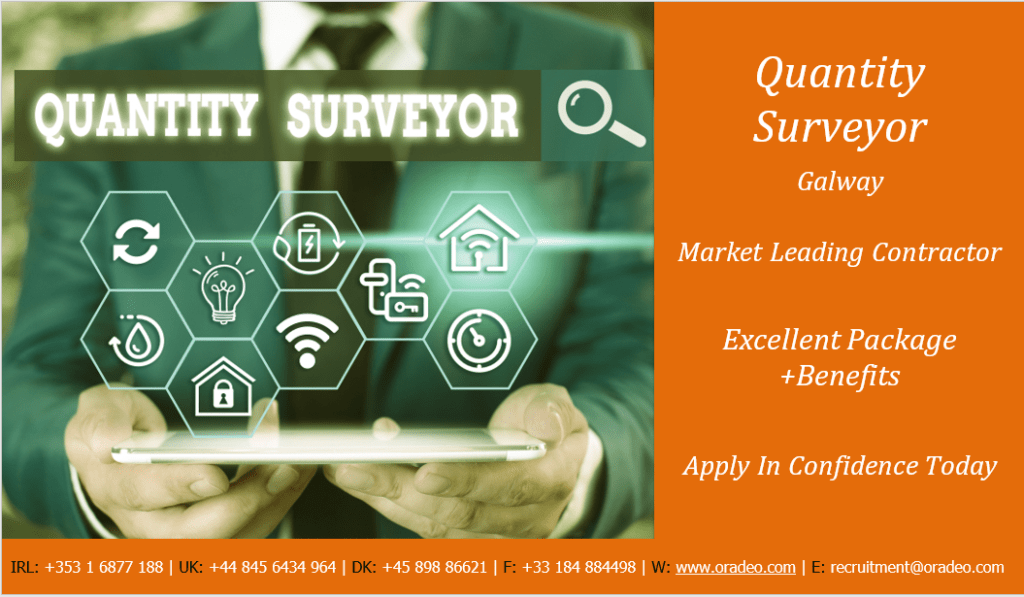 Quantity Surveyor | Galway.
Quantity Surveyor | Galway
One of Ireland's top Construction Companies with significant annual turnover
Excellent Opportunity to take commercial lead on a variety of residential and commercial developments
Excellent Package on offer with scope for further career development and further CPD support
Oradeo Recruitment is immediately seeking an experienced Quantity Surveyor for an international market leading Tier 1 Main Contractor to be based in Galway.
Upon successful appointment of this job, the Quantity Surveyor will be responsible for the management of projects, budget preparation and estimates, progress reports, final account preparation, client interaction and attending various design team / site meetings.
As a member of the Quantity Surveying team, the Quantity Surveyor will work within & assist the commercial & construction team to ensure a successful project is delivered while maintaining relationship and maximising commercial returns.
Quantity Surveyor Responsibilities:
Implement commercial strategy
Support the SQS & MQS commercial functions, assisting with & taking responsibility for:

Preparing tenders, analysing, selecting appropriate s/cs, negotiation & finalise s/c orders, financial & commercial management of s/cs to Final Account completion
Site records & document control
Site measurement records
Assisting in the preparation of forecasts, targets & CV reconciliations
Valuations
Prepare variations with adequate records & details, agree as works progress
Update projected Final Account, prepare & submit in a timely manner

Liaise with & commercially influence/challenge site management team
Maintain & protect JSS commercial & contractual entitlement
CVR – Be actively involved in & understand the process, maintain independent view
Risk/opportunity – Review & consider
Insurances/warranties – Develop understanding
Cash management – Be aware & be actively involved to ensure good cash management
Tender – Support as required
Manage & oversee AQS & TQS, checking & taking responsibility for their work
Involvement with & take some responsibility for:

Simple D&B/CDP contracts
D&B contracts
Claims & disputes
Understanding of contract law

Involvement but no responsibility for contracts over €/£15m
Take responsibility for control of traditional contracts
Supervise AQS & sign-off SMM/measurement issues
Necessary Requirements:
Educated to degree level and working toward the relevant professional accreditation
10 years + experience in a similar role
Letter & report writing
Negotiation skills
Main Contractor experience essential
Contract/commercial appreciation
Demonstrate clear written and verbal communication skills
Ability to effectively utilise a range of technology platforms
Be fully conversant with the use of the Standard Method of Measurement
Demonstrate ownership/commercial awareness
Effective time management, organisational, interpersonal and negotiation skills
For more information about this Quantity Surveyor role or other Quantity Surveyor positions, contact Declan Duggan at Oradeo Recruitment confidentially on +353 1 687 7188 / +44 845 643 4964 or apply in confidence.
About Oradeo – Oradeo Recruitment are specialists in the construction & engineering sector. We are a leading service provider in Ireland, UK and Europe for professional recruitment services and the provision of managed labour in Construction & Civil Engineering, Data centres, Mechanical & Electrical, Life Sciences and Renewable Energies sectors