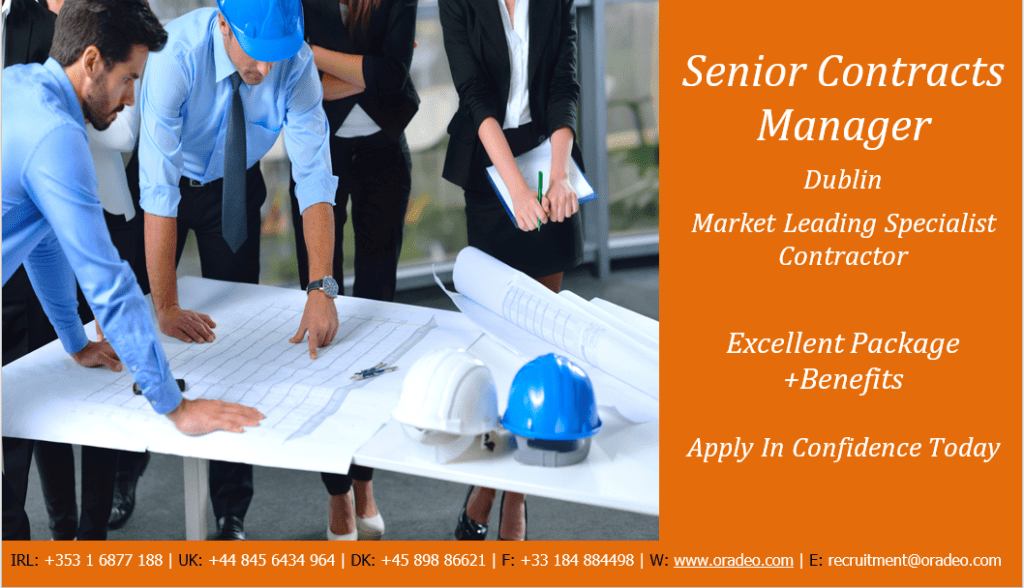 Senior Contracts Manager
Senior Contracts Manager | Dublin
One of Ireland's top 10 Tier 1 Main Contractors with significant annual revenues
Excellent package and scope for career progression
Prestigious projects within the commercial, hospitality, mixed-use, pharmaceutical, data centre, healthcare, industrial sectors etc.
Senior Contracts Manager required to join a market leading international main contractor based in the Dublin/Leinster area. The successful individual will have the opportunity to work regionally on a multitude of exciting, complex and large projects surrounding the Dublin/Leinster area ranging in value from €20-€60+ million respectively in addition to contributing to the overall growth of this highly sought after Irish tier 1 main contractor
Our Client is one of the top 10 main contractors who also have an international presence, they are specialists in construction, infrastructure, fit-out and asset management operating across multiple facets of the industry dealing with many high profile blue chip clients.
You will be tasked with leading and managing the successful delivery of a number of projects within in the Dublin area in addition to ensuring the operational success within the region with tendering & pre-consturction, and will have the opportunity to further develop their career with this well-established organisation.
Overview of Responsibilities:
You will provides day-to-day contract and project leadership in the region (client/technical and commercial) in line with the vision, purpose and core values of the organisation.
Measures the effectiveness of all processes internal and external. Provides timely, accurate and complete reports on the regional operations and projects.
Collaborates with the project/operations teams to develop and implement improved technical and commercial capability, systems, and processes to deliver results and improve organisational capability.
Engages, stretches and leads high performance project management teams (builds talent).
The Manager will leverages their own network within the industry and acts as lead client relationship builder and develops business through direct contact with every key existing/potential clients.
Fosters a client focused, technical excellence driven, positive-oriented, accountable and sustainable environment within the business unit.
The Manager must function effectively as liaison between the board of directors and all regional clients.
Implementation of effective means of controlling contractual documentation on the project ensuring that the team prepare and maintain programmes and related records
Management of all commercial/contractual related aspects of the region in conjunction with the commercial team
Actively participate in site project meeting and ensure that all commercial matters are discussed and problems investigated and resolved
Instruct, coach and direct the project staff with respect to construction, contractual, and regulatory requirements with responsibility for assigned work
Build, grow and develop business relationships for the success of the project
Competencies:
The management and creation of a culture of operational excellence
Building world class technical, project management and commercial capabilities.
Develop and Improve Processes/ Develop the "Right Team".
Unrelenting 'value-creation' centred client focus.
Necessary Requirements:
3rd level qualification in Construction Management/Engineering
Ideally you will possess 15+ years' experience with recognized main contractors on large complex project valued at €40+ million operating in a Contracts Manager/Project Director capacity
Ideally you will be a chartered professional
Have a proven track record of seeing projects through to their successful completion
Strong customers focus skills, with the ability to build relationships and networks with strategic stakeholders
Have a sound knowledge of current construction techniques, build ability and value engineering concepts
Able to demonstrate financial, commercial and business development acumen
Must be technically competent with the ability to set and track project milestones and deliverables
For more information about this opportunity or other Project Director/Senior Management positions, contact Sean Barrett at Oradeo Recruitment confidentially on +353 1 687 7188
About Oradeo– Oradeo Recruitment are specialists in the construction & engineering sector. We are a leading service provider in Ireland, UK, Europe and Middle East for professional recruitment services (Executive search/Directors, Operations Managers, Regional Managers, Senior Quantity Surveyors, Quantity Surveyors, Contract Surveyors, Contracts Managers, Commercial Manager, Site Engineer, Senior Engineer, Project Managers) and the provision of managed labour in Construction & Civil Engineering, Oil & Gas, Mechanical & Electrical, Warehousing and Logistics and Industry