Senior CSA Project Manager MD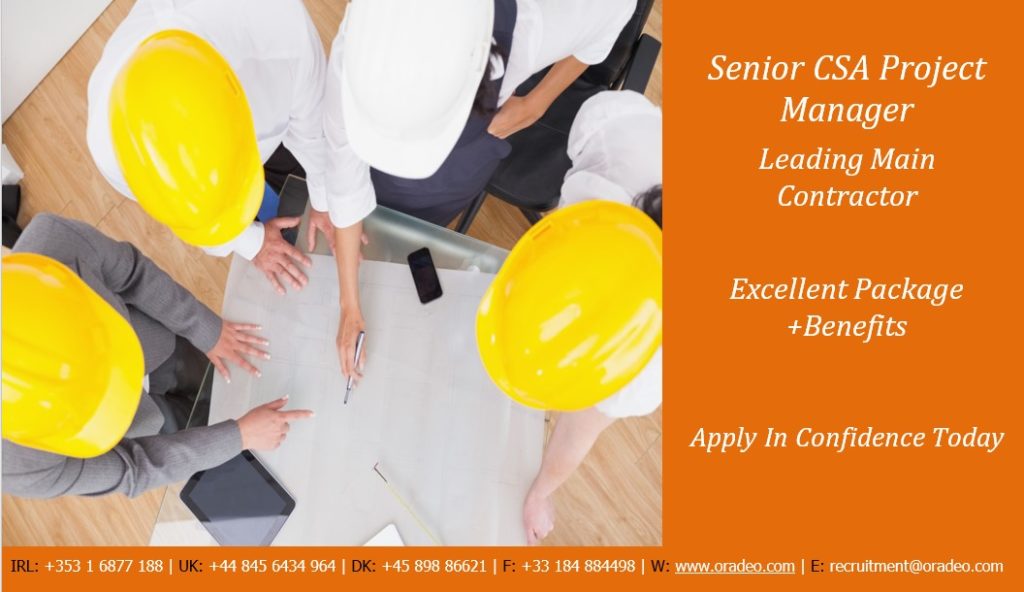 Senior CSA Project Manager | Dublin
Top M&E Contractors with significant annual turnover
Excellent career progression opportunities along with a generous package
Exposure to large, interesting, and prestigious projects
Oradeo Recruitment is presently seeking interest for an experienced Senior CSA Project Manager ideally with solid main contractor / specialist subcontractor experience to join one of Europe's leading M&E Contractors in Dublin. As a Senior CSA Project Manager, you will gain exposure to prestigious projects on large building/construction sites.
Duties & Responsibilities:
Liaising with key Stakeholders to deliver all aspects of assigned projects
Develop Project Execution strategies
Develop site logistics (demobilisation / mobilisation) plans
Develop and implement project schedules in accordance with key milestones, co-ordinating with all trades and CSA works
Develop and implement project costs and budget plans
Review, sign-off and implement Project Quality plans and procedures
Review, sign-off and implement Project EHS Management plan
Management and motivation of Project construction and Engineering teams
Develop and agree submission and approvals process with client / design consultants
Develop and monitor material procurement schedules in accordance with schedule requirements
Select and appoint Project Sub-contractors and Supply chain in conjunction with Project teams and specifications
Chair weekly internal team, supplier and sub-contractor meetings to co-ordinate and ensure project performance
Oversee Project cost / revenue control and report performance and issue weekly reports
Attendance at client / project management meetings
Liaison with Sub-contractor and supplier senior management at steering group level to avoid project roadblocks
Ongoing liaison with Client Design teams and building contractor teams to ensure project performance
Develop and implement test and commissioning procedures
Necessary skills and requirements:
Ideally 5+ years' experience
Ability to demonstrate building strong working relationships & stakeholder
management
Experience of working on data centre/pharmaceutical projects would be advantageous
Excellent Analytical and problem-solving skills
High level of accuracy and attention to detail
Good oral & written communication skills
For more information about this Senior CSA Project Manager role or other opportunities, contact Matthew Durkan at Oradeo Recruitment confidentially on +353 1 687 7188/+353 83 4717 631 or apply in confidence.
About Oradeo- Oradeo Recruitment are specialists in the construction & engineering sector. We are a leading service provider in Ireland, UK and Europe for professional recruitment services (CSA Engineer, Senior Engineer, Senior Site Engineer, Senior Project Engineer, Site Engineer, Project Engineer, Setting out Engineer, Assistant Project Manager, and Project Managers etc.) provided to many market leading Main Contractors, Specialist Contractors, Subcontractors, M&E Contractors, Client Side Organisations, Developers, Architecture practises, Construction Consultancies etc. Oradeo also specialises in the provision of managed labour in Construction & Civil Engineering, Oil & Gas, Mechanical & Electrical, Warehousing and Logistics and Industry