Senior MEP Services Coordinator MD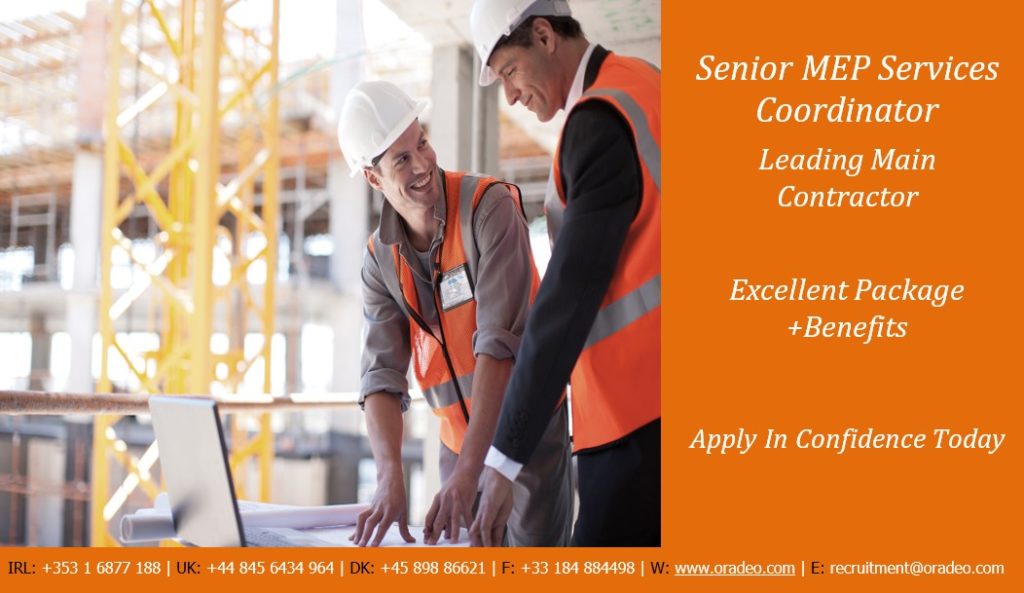 Senior MEP Services Co-Ordinator | Cork
Top 5 main Irish Build Contractor
Exposure to large and prestigious projects
Excellent opportunity for career development
Oradeo recruitment is currently recruiting for a Senior MEP Services Coordinator to work with a market leading Main Contractor in the Cork area on a permanent basis with an excellent remuneration package on offer.
Duties & Responsibilities:
Adhering to the company H&S policy.
Monitor, co-ordinate and control the flow of M&E design information to ensure the timely release of information for construction activities.
Ensuring the M&E designers identify hazards and assess risks to health and safety when designing the works.
Review M&E design information at tender stage and undertake a full design gap analysis to advise the bidding team of any design shortfalls.
Ensure all required approvals (statutory, regulatory, client and company) are in place as and when required.
Assist in ensuring that the M&E designers produce design development programmes which meet the needs of the contract programme, and review the programmes regularly as required.
Assist, when required, in the selection and appointment of the M&E consultant designers and design and build sub-contractors.
Ensure M&E information released for construction has been reviewed by all interface designers and construction team and amended/approved prior to issue for construction and is in line with the specification/ contract.
Ensure M&E designs and details produced are economic and do not exceed budgeted or estimated cost without good reason and are in conformance with the specified or detailed requirements for quality.
Ensure the M&E design is validated on completion of the works.
Keep appropriate cost and installation records including the witnessing of testing and commissioning as required?
Carry out cost checks on M&E design proposals and report serious deviations to senior management immediately.
Ensure risk assessments are carried out and all risks identified.
Assist in the production of O & M manuals on completion of the project.
Ensure that specialist mechanical and electrical sub-contractors work strictly within company Safety Management System and comply fully with all its requirements.
Promote the use of off-site manufacturing to ensure programme and quality requirements are achieved using modern methods.
To ensure that production controls are in place for monitoring, reporting, benchmarking works and improving performance.
Necessary Requirements:
Minimum 5 years large-scale projects experience
A steady background in Mechanical and or Electrical with a Degree and or Trade in Building Services M&E
Managing progression of MEP services from start to practical completion
Knowledge and experience of Revit/BIM
Previous employment as a M&E Co-ordinator, Building Services Coordinator, M&E Manager, Building Services Manager or Mechanical Design Engineer, Mechanical Designer
Previous experience / knowledge in building sector projects such as Commercial, Mixed Use, Residential, Apartment Blocks, Student Accommodation, Hotels, Extra Care Housing, MOJ, Industrial, Education or Healthcare
Previous Main Contractor or M&E Subcontractor backgrounds required
This is an excellent opportunity with an excellent remuneration package will be available to the right candidate. Those who wish to apply or just find out more should contact Matthew Durkan at Oradeo at 01 687 7188 / +44 845 643 4964 or apply in confidence.