Senior Site Engineer | Dublin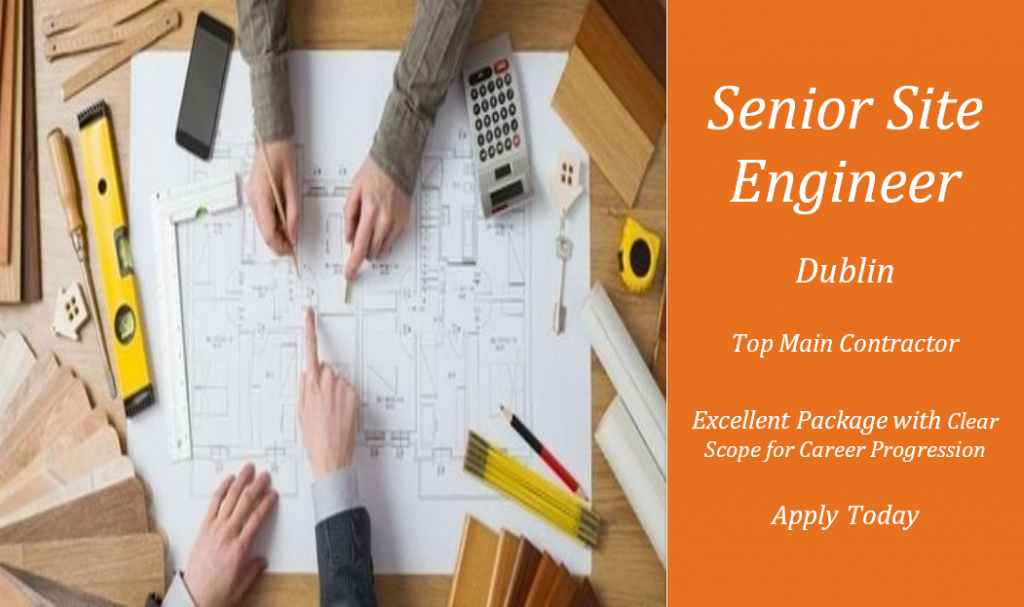 Senior Site Engineer | Tier 1 Main Contractor | Dublin
One of Ireland's Top 5 Tier 1 Main Contractors with significant annual turnover.
Excellent career progression opportunities along with a generous package.
Exposure to large, interesting and prestigious projects acting in a management capacity.
Oradeo Recruitment is presently seeking interest for an experienced Senior Site Engineer ideally with solid contractor experience to join one of Ireland's leading Tier 1 Main Contractors permanently based in Dublin. As a Senior Site Engineer you will gain exposure to prestigious projects across the Dublin area on large building/construction sites and across multple sectors (Pharma, Data Centre, Commercial, Industrial, Hotels, Residential, Mixed-use etc.) ranging from €35-€100+ million each.
Become a Senior Site Engineer with a building contractor with an outstanding reputation in the market on large scale construction projects. This position would come with an excellent remuneration package and a clear path for career growth and development.
Senior Site Engineer Responsibilities:
Managing a team
Maintaining the drawing register, stamp drawings "received" and filing superseded drawings. you will aslo ensure that the drawing rack is up-to-date with the latest drawing
Ensuring all contractors on site is working to the latest set of construction drawings / details
Check, understand and interpret specifications and drawings. Inform site management of potential issues that could affect sequencing of works, and timely procurement of isolate elements
Checking plans, drawings and quantities for accuracy of calculations
As a Senior Site Engineer you will be liaising with the local authority, clients and their representatives (where appropriate to the project) to ensure compliance with local construction regulations and by-laws & setting coordinates
Raise RFI's if information is not clear on drawing and chase for response
Maintain RFI register, and update for every progress meeting / Design Team Meeting
Liaise with QS when raising RFI's to ensure maximum scope
Resolve discrepancies identified on drawings and specifications
Monitor quality of workmanship & materials
Prepare and review pre –pour sheets for all elements of work
The Senior Site Engineer will attach post pour sheet & pre pour and file as per BCAR requirements. Ensure sufficient progress photos are taken and filed correctly
Quality – ensure all testing of materials – blocks, hardcore, CBR's etc… are carried out as per HHP / MCOH specification, and results are issued in a timely manner
Issuing NCR to contractors during works / when work completed on site is not to specification or tolerance
Close out NCR's with contractors and inform QS of delays or costs incurred
Keep a daily of all relevant events
Maintain as built drawings, liaising with site management to meet project deadlines
Ordering materials for external works, labour only contractors – ensuring there is sufficient orders place in adequate time to avoid delays on site
As a Senior Site Engineer you will be coordinating external works and liaising with PM / SM to ensure there is no delays caused due to coordinating external works and internal works
Where possible maximizing plant and materials between both external & internal works. I.e. crane, concrete etc.
Issue the relevant permits along with SM for hot works, excavations, etc.
Necessary Requirements:
3rd level qualification in Civil Engineering or Construction Management
Minimum of 5 years' experience preferably within the Irish or UK market working for recognised a Main Contractor or Specialist Subcontractor
Ideally the Senior Site Engineer will have developed experience on projects in excess of €15 million within the commercial, hospitality, mixed-use, high-rise, healthcare etc. sectors
Strong operational skills and an attention to detail, and experience of the design build process
For more information about this role Senior Site Engineer position or other Senior Engineer / Project Engineer opportunities, contact Declan Duggan at Oradeo Recruitment confidentially on +353 1 687 7188/+44 845 643 4964 or apply in confidence.
About Oradeo – Oradeo Recruitment are specialists in the construction & engineering sector. We are a leading service provider in Ireland, UK and Europe for professional recruitment services and the provision of managed labour in Construction & Civil Engineering, Data centres, Mechanical & Electrical, Life Sciences and Renewable Energies sectors