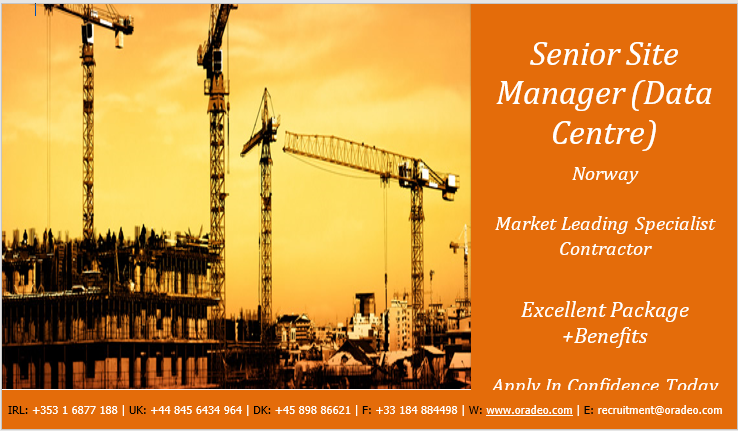 Senior Site Manager | Europe (EMC).
Senior Site Manager | Norway (Data Centre exp.)
Excellent basic salary with heaps of additional benefits & career development prospects
Prestigious M&E Projects within the Data Centre, Pharmaceutical, Industrial and Cleanroom sectors
Oradeo Recruitment is currently seeking a Senior Site Manager with high solid previous experience working for a main contractor or specialist M&E subcontractor for projects initially based in Norway. The successful Site Manager will be working for one of the leading international specialists in construction, fit-out and asset management and initially will be based on a highly confidential and sought after multimillion euro data centre.
Site Manager Responsibilities:
The Management of employees, subcontractors and materials to ensure the safe and effective delivery of contract works
Ensure works are carried out in the most efficient manner possible to achieve optimum commercial results for the contracts under his/her control
The Senior Site Manager will ensure contract costs are managed within budget and programme
Ensuring all work is completed to an acceptable quality standard and in compliance with specification
Ensure the implementation of Quality management System to include Quality and Environmental processes and procedures
Ensure adequate resources are in place for contracts under their control
Ensure contract review meetings are held on all contracts
Ensure Pre-Appointment and co-ordination meetings are held with all Sub-Contractors
Complete "Performance Reviews" and the "Personal Development Plans" for direct reports ensuring future staff development
Necessary skills and requirements:
Have a minimum of 8 years construction site management experience working in either data centre, pharmaceutical or industrial sectors from €15+ million
Experience of Data Centre fitout would be advantageous
Have a sound knowledge of current construction techniques
Ideally have a minimum of a 2:1 Hons Degree in an Engineering/construction related discipline or strong trades background
Knowledge of design procurement
Knowledge of construction methods and best practice, technologies and materials
Knowledge and understanding of claims and L&E
Knowledge and understanding of subcontract/material procurement
Knowledge of Management Systems
Knowledge of standards and specifications
Knowledge of commercial management
Knowledge of Safety & Health and Quality Policies and Procedures
Have a proven track record of seeing projects through to their successful completion.
Familiar with MS Office applications such as Word, PowerPoint, Excel and Outlook.
Strong and effective communication and interpersonal skills.
Analytically thinker with demonstrated problem solving skills
Ability to perform multiple tasks at a high level of quality
Ability to work well under pressure and within a strict deadline environment
For more information about this Site Manager role or other Site Manager/Construction Manager positions, contact Eavan McCallig at Oradeo Recruitment confidentially on +353 1 687 7188/ +44 845 643 4964 or apply in confidence.
About Oradeo- Oradeo Recruitment are specialists in the Construction & Engineering sector. We are a leading service provider in Ireland, UK and Europe for professional recruitment services (Senior Quantity Surveyors, Quantity Surveyors, Mechanical Quantity Surveyor, Electrical Quantity Surveyor, M&E Quantity Surveyor, Contract Surveyors, Cost Engineer, Contracts Managers, Commercial Manager, Site Engineer, Senior Engineer, Project Manager, Health & Safety) provided to many market leading Main Contractors, Specialist Contractors, Subcontractors, M&E Contractors, Client Side Organisations, Developers, Architecture practises, Construction Consultancies etc. Oradeo also specialises in the provision of managed labour in Construction & Civil Engineering, Oil & Gas, Mechanical & Electrical, Warehousing and Logistics and Industry