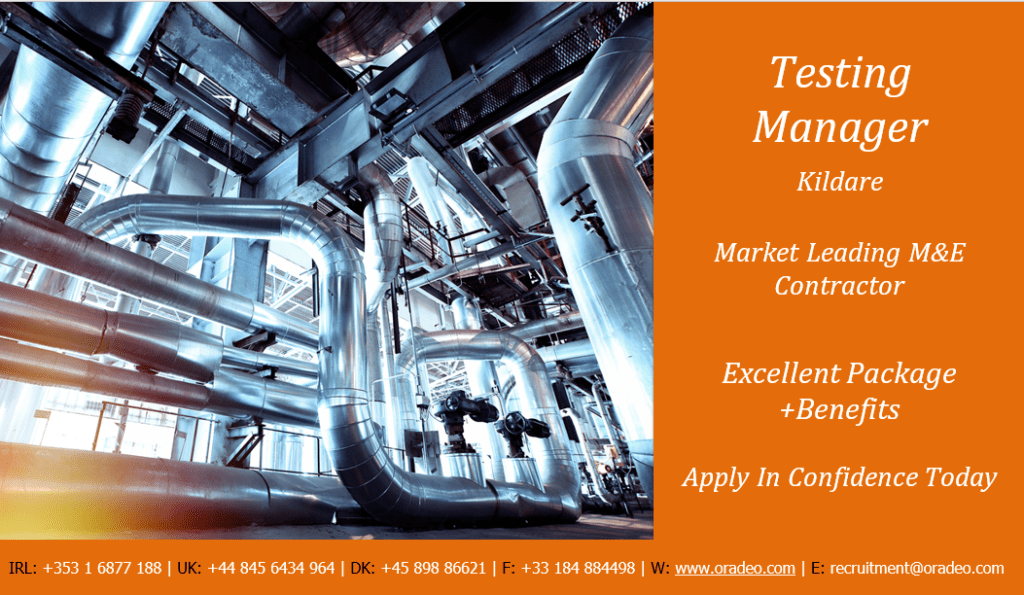 Testing Manager | West Dublin
Testing Manager | West Dublin
Top European Tier 1 M&E Contractors with significant annual turnover.
Excellent career progression opportunities along with a generous package.
Exposure to large, interesting and prestigious projects.
Oradeo Recruitment is presently seeking interest for an experienced Testing Manager ideally with solid main contractor / specialist subcontractor experience to join one of Ireland's leading Contractors based in West Dublin.
Role Overview:
Reporting to the Quality Manager, you will be responsible for the following:
Ensure assigned construction operations and contractors' performance are following specifications and within schedules and budgets.
Strong technical knowledge of pipe hydrotesting and pneumatic pipe testing processes and work steps, including disassembly and re-instatement of pipe systems.
Be experienced with torque and tensioning methods of bolted flange connections. Excellent problem-solving ability along with experience of safety/quality protocols.
Assists construction supervisors in planning and assembling of pipe test packages using the proper construction methods and procedures.
Coordinates and resolves engineering or construction problems with supervisors as required ensuring the work packages are clearly understandable.
Establishes procedures on testing of piping systems.
Responsible for the development of pneumatic and hydro-test packages and responsible for verifying and witnessing acceptance of tests.
Performs inspections of all piping work in progress on a continuing basis, witnesses tests and completes final P&ID check prior to turnover.
Develops punch lists and monitors completion of punch items.
Assists in securing the necessary client acceptance documentation for record.
Prepares and has full responsibility for managing piping QC records to ensure that they are fully completed and properly submitted in a timely manner to Document Control.
Testing Manager Responsibilities:
Provide leadership for safety, accident and fire prevention on the project.
Champion the cause of ZERO Accident Philosophy.
Ensure that local/national safety codes, requirements and standards are being complied with within assigned area of responsibility.
Responsible for supervising and directing testing supervision.
Responsible for the cost, schedule and optimization of craft labour and maintaining the four-week look ahead schedule for labour and equipment.
Responsible for implementing corporate project policies, procedures and instructions within assigned piping operations.
Coordinate with the General Foreman to hire piping craft labour to execute work.
Coordinate established area operational plans.
Lead the preparation of the four-week schedule and budget control with assistance from Project Controls.
Provide input to quantity tracking application and report weekly installed quantities to Project Controls.
Prepare material requisitions for tools and consumables and coordinate through Procurement to obtain these materials.
Assist in performing construction testing of piping systems as required.
Prepare reports and forecasts, including summary of construction progress, craft personnel forecasts, and expenditures forecasts.
Plan the manpower and equipment required to execute the job.
Perform employee reviews and identify training and development opportunities for subordinate piping personnel.
Excellent work and personal ethics that include trustworthiness, commitment, and empathy
Confident, creative, and energetic approach to addressing all quality-related issues
Good inter-personal skills
Ability to produce quality written reports
Proficient in the use of MS Excel, MS Word, and MS PowerPoint
Ability to produce high standard written (English) reports
Necessary skills and requirements:
10 years relevant experience in the absence of a degree.
Experience in use of work packs and test packs
Good knowledge of hands-on use ensuring Right first Time" approach
Knowledge of construction technologies.
Knowledge of supervisory functions relating to field activities.
Familiarity with current industry quality standards.
Demonstrated commitment to Environment, Safety and Health (ES&H).
Extensive experience in piping construction on large projects.
For more information about Testing Manager role or other opportunities, contact Declan Duggan at Oradeo Recruitment confidentially on +353 1 687 7188 or apply in confidence.
About Oradeo – Oradeo Recruitment are specialists in the construction & engineering sector. We are a leading service provider in Ireland, UK and Europe for professional recruitment services and the provision of managed labour in Construction & Civil Engineering, Data centres, Mechanical & Electrical, Life Sciences and Renewable Energies sectors