Netherlands plans hyperloop test track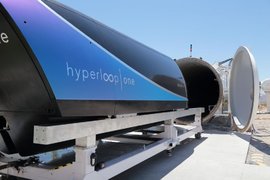 A new report has recommended the construction of a 5km hyperloop test track in the Netherlands.
Development is already under way of hyperloop systems
The report, Hyperloop in the Netherlands, has been drawn up for the Dutch government by TNO, BCI, Vinu and Arup. It paints a positive picture of the societal and economic value of the test track, and proposes Vogelweg in Flevoland as the most appropriate location.
The Netherlands is already seeking global prominence when it comes to self-driving vehicles, truck platooning, and drones; hyperloop is seen as perhaps becoming a new chapter in this focus on new forms of mobility.
The hyperloop technology, conceived by Tesla founder Elon Musk, could eventually enable passenger and freight transportation through vacuum tubes at speeds of up to 1,200km/h. Developments surrounding hyperloop have boomed since the concept was launched in 2013. Two hyperloop companies – Hardt from Delft and Hyperloop One from the United States – have indicated that they are looking for a location to field-test the hyperloop concept and have it certified for passenger and freight transport.
With a view to these plans, infrastructure and the environment minister Melanie Schultz van Haegen has commissioned the study to find out whether the construction of a test track may be worthwhile for the Netherlands.
In addition to the hundreds of new job opportunities that will open up when the two hyperloop parties start testing, knowledge will be generated about hyperloop technology. Dutch companies may capitalise on the knowledge and expertise gained in a test phase when the companies involved eventually construct a hyperloop for commercial purposes, suggested the report.
The tests should provide more clarity regarding the commercial viability of hyperloop, though the report says that it is still too early to make decisions on commercial routes in the Netherlands.
Further studies will be conducted in collaboration with the two hyperloop companies to explore what is needed to realise a test route in the Netherlands.