Three providers will compete for the construction of the E6 Kvithammar – Åsen
Four contractor groups were eligible for the competition for the construction of the stretch north of Trøndelag, but one resigned.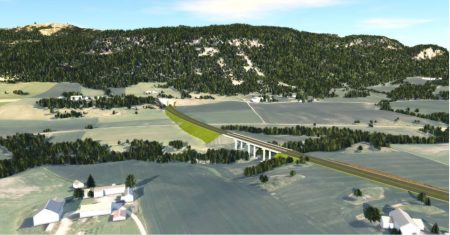 The three who will compete further if the contract price for the construction of the new E6 Kvithammar – Åsen is:
BetonmastHæhre Anlegg AS and Dr. Ing. Aas-Jakobsen Trondheim AS
Skanska Norge AS and Norconsult AS
Acciona Construcción SA and Multiconsult Norge AS
Veidekke Entreprenør AS and Rambøll Norge AS were also eligible to compete for the contract, but have withdrawn their participation. Thus, there is three groupings left.
This gives good competition for the contract. We have very good companies with who will deliver their offerings, "says Ingrid Dahl Hovland, CEO of Nye Veier.
Kvithammar – Åsen is 19 km. long and includes, among other things, Mid-Norway's longest tunnel, Forbordsfjelltunnelen (7.8 km).
"It's a big and demanding project. It is therefore extra satisfying to see that we have good providers with good competence and imple mentation in the competition, "says Johan Arnt Vatnan, Project Director for Nye Veier Trøndelag.
Entrepreneurship is expected to take place in March 2019, and construction starts in 2020. New E6 Kvithammar – Åsen wants a contract value of approximately 5.3 billion. VAT. Completion is expected in 2025/2026.
Source: https://www.nyeveier.no/nyheter-fra-prosjektomr%C3%A5dene/nyheter/e6-troendelag/tre-tilbydere-skal-konkurrere-om-bygging-av-e6-kvithammar-%C3%A5sen